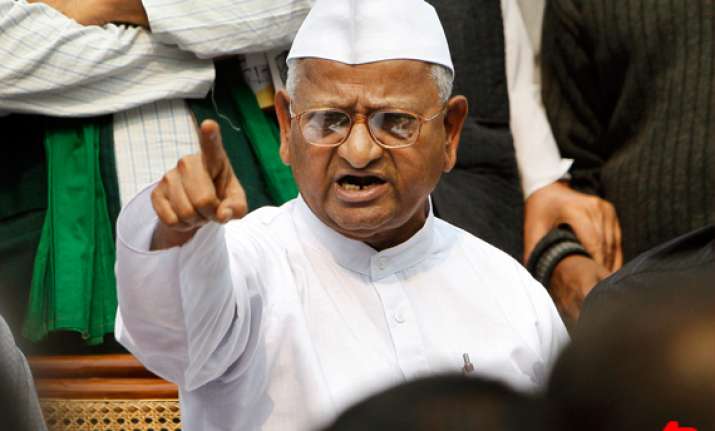 New Delhi, Nov 28 : Stepping up pressure on Lokpal issue, Anna Hazare has decided to hold a dharna here on December 11 if the Parliamentary Standing Committee's proposals on the bill were not to his satisfaction. 

Team Anna said the 74-year-old activist will lead a day-long protest at Jantar Mantar if the Standing Committee does not come up with strong provisions in the bill.  "It all depends on the Standing Committee's proposals.

Anna is planning to sit on a protest in Jantar Mantar on December 11 depending on the Standing Committee's recommendations," a senior Team Anna member said.

 "Please join the dharna at Jantar Mantar on December 11 for a strong Janlokpal," Hazare was quoted as saying by his close aide Suresh Pathare.

The Parliamentary panel on Lokpal Bill is likely to submit its report before December seven.

Team Anna has been insisting that the lower bureaucracy, higher judiciary, provisions for Citizen's Charter and setting up of Lokayuktas at the state level be brought under the ambit of the Bill.

Meanwhile, confusion prevailed over Hazare's protest plans at Ramlila Maidan from December 27 with MCD Standing Committee Chairman Yogender Chandolia saying that the civic body has not given permission for the agitation there even as Team Anna insisted that it has got the nod. 

"No permission has been given yet," Chandolia, a senior local BJP leader, said when asked about claims by Team Anna that it has been given the nod to use the Maidan from December 27 to January five for a protest in case the bill is not passed during Parliament's Winter Session. 

However, a senior MCD official said permission has not been denied. "But permission has also not been given. We have received an application from Team Anna saying that it wants to book the Maidan," he said.
"Team Anna has stated that it wants the ground after the Winter Session. No dates were mentioned. We told them that we have to see the bookings. Now we are looking into it. If there are no bookings, it may get it," the official said. 

Team Anna member Manish Sisodia said, "We have sought permission from MCD from December 27 and we have been granted permission to use the ground till January five." Team sources said they have the permission from MCD "subject to an NoC" from Delhi Police.
"The permission is subject to an NoC from police. We have a written commitment from MCD in this regard," they said.

Hazare's plan to hold a day-long protest is being seen as an effort to build pressure of the Standing Committee, which is dealing with issues like whether to bring the Prime Minister under the ambit of the anti-corruption watchdog.

According to Abhishek Manu Singhvi, chairman of the Standing Committee, 25 issues including those concerning media, corporates, NGOs, lower bureaucracy and citizens grievances have been "comprehensively dealt with" by the panel.

The Committee, scrutinising the Lokpal Bill, had on November 24 ended its internal deliberations with "broad consensus" on most of the issues including on giving constitutional status to Lokpal.

Meanwhile, Team Anna member Neeraj said Delhi Police has been formally approached for permission to hold protest at Ramlila Maidan from December 27 to January 5. 
He said on November 23, Team Anna had submitted a request letter to an assistant director of MCD asking for permission to use the Maidan.

In his reply, the official said the Maidan was available for that period and that he needed a 'no objection certificate' from the police, according to Neeraj. 
"Today, we have submitted a letter to Delhi Police in Daryaganj. We have said MCD is ready to give us the ground, you issue us an NOC," he said.

Team Anna members and supporters held silent protests across the capital today to press for the passage of a strong Lokpal Bill.