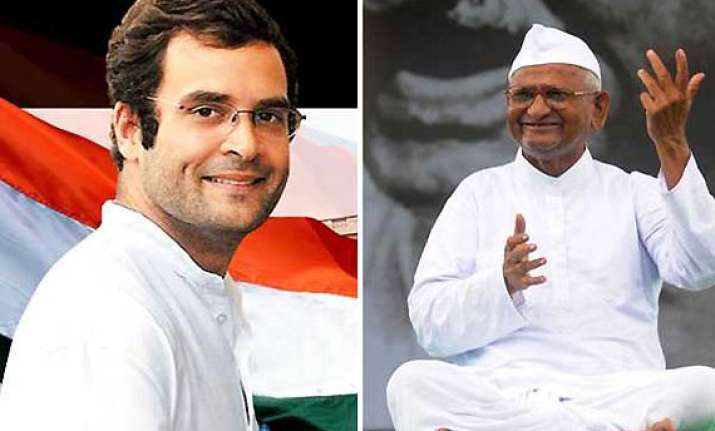 Ralegan Siddhi, Dec 2: Anti-corruption crusader Anna Hazare today lashed out at Congress leader Rahul Gandhi saying he "suspected" that the government was working under his pressure on the Lokpal Bill issue.
 
Addressing a press conference, Hazare read out Prime Minister Manmohan Singh's letters dated November 15 and August 23 which assured that a strong and effective Lokpal Bill would be brought and a Citizens Charter will be brought.
 
"But now, the Standing Committee of Parliament is saying that Class 3 and 4 employees will be kept out of Lokpal's purview.  It seems there is no co-ordination between people in the government. We want all classes of employees to be under the purview of Lokpal", said Hazare.
 
"It seems the government is acting under pressure from Rahul Gandhi", the Gandhian said.
 
When reporters pressed whether he had any evidence to back up his charge, Hazare said, "mujhe andaaza hai" (that's my assumption). "Where there is smoke, there is fire", he added.
 
The Gandhian said he did not bother whether the Lokpal gets a Constitutional status or not.
 
"Look at the Election Commission. It has constitutional status and autonomy. It had urged the government to bring Right to Reject law for the last 10 years, but no action was taken", he pointed out.
 
Hazare announced that if the government failed to bring a Lokpal Bill on the lines of the Jan lokpal bill draft, he would sit on "indefinite fast"
at Ramlila Maidan, Delhi from December 27.
 
"We have got permission to sit on fast for eight days. If something (bura-bhalaa) happens to me, it will be a dark blot on the party (Congress). The people of the country will teach the ruling party a lesson", he said.
 
Hazare said, after his indefinite fast in Delhi, he would proceed to five states, where assembly polls are going to be held.
 
"I will sit on fast for 2-3 days each in each of the state to tell people not to vote for those corrupt people who are opposing the Jan Lokpal Bill", he said.
 
 
On FDI in retail sector issue, Hazare said, several parties have been opposing FDI in retail sector, but the government appears to be adamant.
 
"My suspicion is that the government is adamant only because it does not want to get the Lokpal bill passed in Parliament", Hazare said.