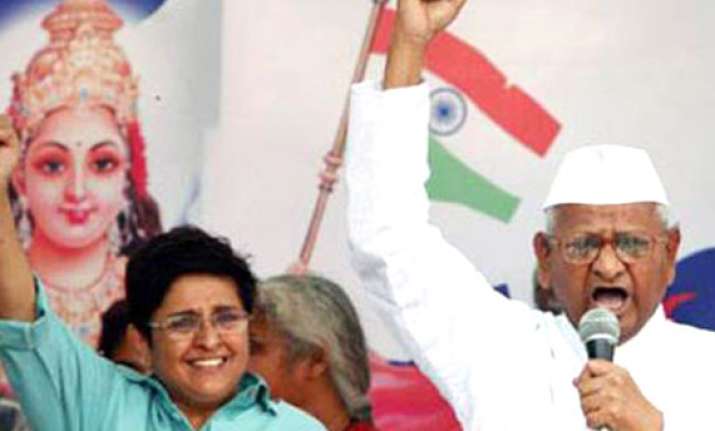 Pune, Jan 5: Setting at rest speculation over Anna Hazare's proposed tour of five poll-bound states, his close aide Kiran Bedi today said he would not campaign as planned earlier on medical advice.

"Anna is not going to campaign. He has been advised by doctors not to undertake fast or travel as he needs total rest," she told reporters after visiting the 74-year-old activist, who is undergoing treatment for bronchitis at Sancheti Hospital here since December 31.

Bedi said Hazare's condition was "good" but he needed total hospital care and rest as per medical advice to avoid any relapse.

She said Hazare's health is "really important" for them and he could not be exposed to sudden changes in temperature.

The former IPS officer said she would be conveying the anti-graft crusader's "message" to the Core Group of Team Anna, which would meet on Saturday to chalk out the future course of action.

Calling off his fast and other agitations ahead of schedule for a strong Lokpal Bill, Hazare had announced that he will tour five states going for polls and campaign against Congress for failing to bring a strong Lokpal.

Hazare's hospitalisation on December 31 and advice by doctors forced him not to undertake the proposed campaign in Uttar Pradesh, Uttarakhand, Punjab, Goa and Manipur which are going to polls from January 28 to March 3.

Prominent Team Anna member Arvind Kejriwal, who had called upon Anna this week, had then said campaigning by Hazare entirely depended on his health condition and advice by doctors treating him.

Meanwhile, Dr Parag Sancheti of Sancheti Hospital said Hazare was progressing well but needed complete rest for a month and a decision on his discharge would be taken on Sunday.

A medical bulletin on Hazare's condition issued by the hospital said he had made "considerable progress and was gradually recovering".

Hazare's chest X ray, ECG and blood tests were normal. He is being given Vitamin D supplements in addition to intravenous antibiotics, it said.

Dr Sancheti said Hazare was having proper sleep and was feeling much better now.