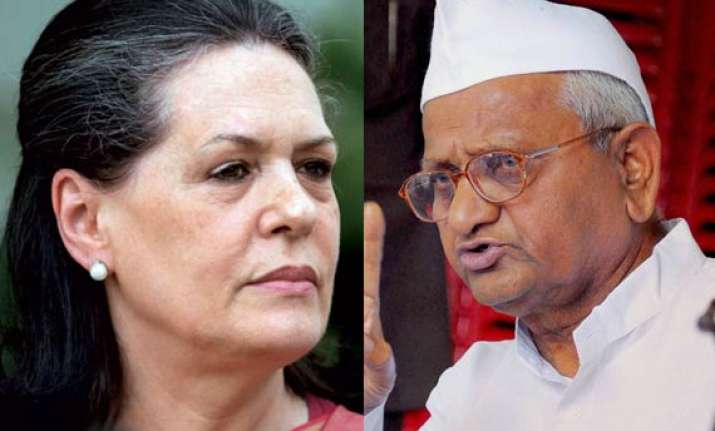 Ralegan Siddhi/New Delhi, Dec 22: Setting the stage for a confrontation with the Government, Anna Hazare today rejected the Lokpal bill introduced in Parliament, saying it is "very weak" and dared Congress chief Sonia Gandhi for a public debate on the proposed legislation. 

Soon after the bill was introduced in Lok Sabha, Hazare said in Ralegan Siddhi that the new bill is "very weak and useless" and it will not help in tackling corruption as it does not bring CBI under the control of anti-graft ombudsman. 

"This government is incapable of tackling corruption. Why are they scared of giving away CBI? If CBI is under Lokpal's control, they fear that there will be a line of ministers going to jail," Hazare told reporters.

Hazare said the new Bill is of no use if the anti-corruption ombudsman does not have control over CBI and the lower bureaucracy is not brought under its direct control. 

"Sonia Gandhi says the bill is strong. If it is so, let her come out and debate with us in front of media. Let people see it. Let us have a face to face debate. Convince the people of the country that it is strong. We will explain how it is not strong," he said earlier in the day.

"What is right and wrong with the bill, let us debate in public," he said.

Hazare's remarks came as a response to Gandhi's speech at Congress Parliamentary Party meeting yesterday during which she said the proposed legislation was strong and she was ready to fight for it.

Continuing his attack on the government, Hazare said he will go ahead with his three-day fast from December 27 in Mumbai and then leave for Delhi to join the 'jail bharo' agitation during which he will protest outside the residences of Sonia Gandhi and Rahul Gandhi.

Describing the bill as "anti-people and dangerous", Hazare's close aide Arvind Kejriwal said in Ghaziabad (UP) it was "worse" than the legislation introduced in August in Lok Sabha.

Upping the ante, Hazare said, "I will be part of the group that will 'gherao' the residences of Sonia Gandhi and Rahul Gandhi as part of our jail filling agitation." He said putting CBI out of Lokpal shows how the bill will be "useless".

"The biggest victims of corruption are the poor who have to pay bribes to get any work done. How will the common man live like this? Our demand is that lower bureaucracy be brought under Lokpal," he said.

But the lower bureaucracy is being brought under Central Vigilance Commission which is under the control of government, he contended.

"How will the common man get justice. Lower bureaucracy and CBI should be under Lokpal. Only then the bill will be in the right form," he said.

Criticising the Grievance Redressal Bill, Hazare said government does not have the intent to help people fight corruption and they were making people take rounds of government offices to get their complaints addressed.  He also voiced concerns about the effect of a "weak" central law on state Lokayuktas.

When asked about demands for reservation in Lokpal Bench and Selection Committee, Hazare said he left a decision on this to Parliament.

He said he will appeal to people not to vote for those parties which have opposed Jan Lokpal bill.  Kejriwal said the proposed legislation is meant to crush the rights enjoyed by people.

"Under the present bill, government will have all the control over Lokpal as it will have powers to appoint and remove members at its will. It is worse than the Lokpal Bill introduced in August. We reject the (new) bill. It should be withdrawn and introduced after being redrafted," he said.