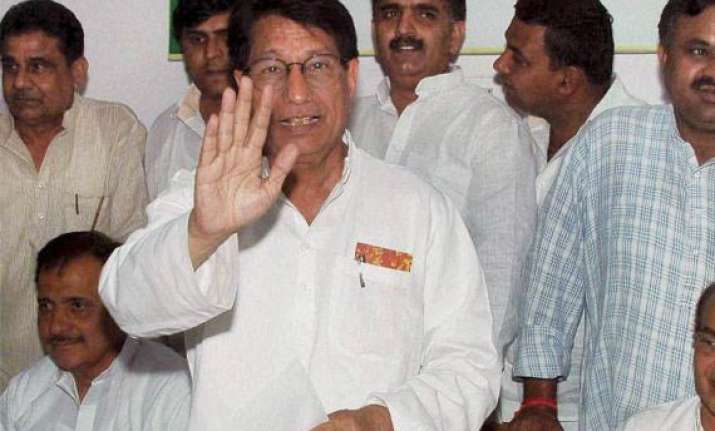 New Delhi, Dec 16: RLD chief Ajit Singh will be inducted as a Union Cabinet Minister on Sunday in a minor expansion of the Council of Ministers by Prime Minister Manmohan Singh.

The swearing-in of the 72-year-old Jat leader from western Uttar Pradesh is taking place a week after his party formally joined the UPA, the first political outfit to do so since the alliance came to power for the second time in May 2009.

It was not immediately clear whether any one else would be joining along with Ajit Singh, who would become the 33rd minister in the Union Cabinet and 77th in the council of ministers.

There was talk sometime back that Telugu superstar Chiranjeevi, who merged his Prajya Rajyam Party with the Congress earlier this year, may be made a union minister. But it was unclear whether he would be part of the expansion being undertaken in the midst of the Winter Session of Parliament. 

The merger of Praja Rajyam Party had helped the Congress to shake off the opposition challenge in the Andhra Pradesh assembly in the form of a no confidence motion recently. 

Ajit Singh, whose RLD has five members in the Lok Sabha, had a meeting with the Prime Minister on Monday.  With RLD joining the ruling coalition, UPA's strength in the Lok Sabha has gone up from 272 to 277.

Ajit Singh has been a member of the Congress government in the past when Narasimha Rao was the Prime Minister. He held the Food portfolio then.

He was industry minister in the V P Singh government (1989-90) and Agriculture Minister in the BJP-led NDA regime from 2001-03.

The talk is that he is likely to get the Civil Aviation portfolio this time.

RLD will be the 15th constituent of the UPA, the others being TMC, DMK, NCP, NC, Muslim League, MIM, Kerala Congress (M), VCK, Bodoland Peoples' Front, Nagaland Peoples' Front, SDF, and AIUDF.