Follow us on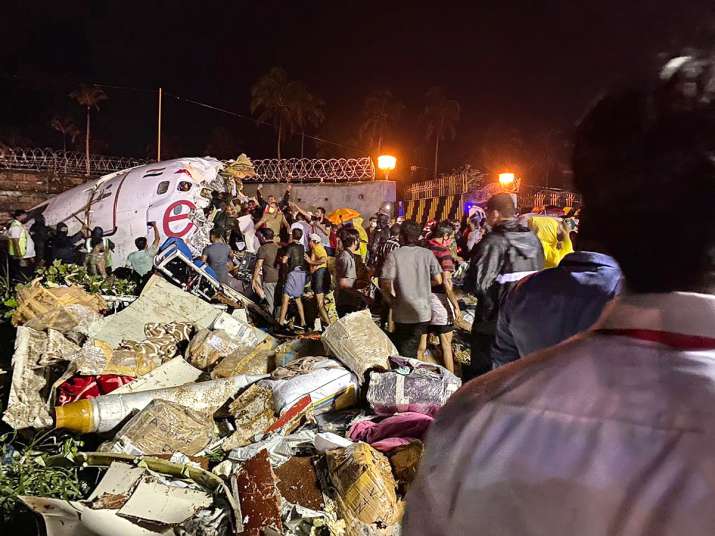 In one of the most devastating flight accidents in recent times, an Air India Express flight from Dubai overshot the runway at Kerala's Kozhikode airport on Friday, claiming the lives of at least 19 people and injuring over 100. According to Flightradar24, the aircraft tried to land twice at the Karipur International Airport. The AIE flight from Dubai with 190 onboard overshot the tabletop runway in Kozhikode airport on Friday night while landing in heavy rains and fell into a valley 35 feet below and broke into two portions. Captain Deepak Sathe, the pilot-in-command, and his co-pilot Akhilesh Kumar were among those who died.
Air India Plane Crash: Highlights
Russian President Vladimir Putin has sent his condolences to President Ram Nath Kovind and Prime Minister Narendra Modi on the tragic plane crash at Kozhikode. 
CISF issued a statement over the paramilitary personnel after the Air India Express flight crash. The state read, the CISF personnel acted as the 1st responder and played a vital role in rescue operations after Air India Express flight crashlanded at Calicut International Airport yesterday. CISF team immediately rescued the passengers and arranged ambulances to shift the passengers to the hospital. 
Maharashtra Home Minister Anil Deshmukh met late Captain DV Sathe's family members at their residence in Nagpur. Captain DV Sathe was flying the Air India Express flight which crash-landed at Kozhikode airport.
Kerala CM Pinarayi Vijayan announced a compensation of Rs 10 lakhs to the next of kin of each passenger, who died in the Air India Express crash. He also said that all the accident victims will be tested for COVID including those who died in the crash. So far, only one victim has tested positive for Coronavirus. Apart from the solatium for the victims, the State Government would bear the treatment expenses of all those injured in this unfortunate plane crash irrespective of the hospitals they are in. 
We were fortunate that unlike the tragic accident at Mangaluru Airport 10 years ago, where the aircraft caught fire, here preventive action minimized the loss of lives. As an interim relief, we will be making a payment of Rs 10 lakhs (to kin) of each deceased, Rs 2 lakhs for seriously injured & Rs 50,000 for those who suffered minor injuries. The aircraft was being captained and operated by one of our most experienced & distinguished commanders, Captain Deepak Sathe. In fact, he had landed on this airfield as many as 27 times, including this year: Hardeep Singh Puri, Civil Aviation Minister
Directorate General of Civil Aviation had some issues with the runway in 2015, but after resolving those issues, clearance was given to it in 2019. The jumbo jets of Air India also used to land there: Arvind Singh, Airport Authority of India Chairman
The aircraft could not land at a runway on where it had to, then landing was tried on another runway where the mishap happened. We are monitoring situation and airport will become operational soon. An alternative facility in Nagpur is also under progress: Arvind Singh, Airports Authority of India Chairman
Puri announces Rs 10 lakh interim relief for each of the deceased, Rs 2 lakh for the seriously injured and Rs 50,000 for those who suffered minor injuries in AIE flight mishap in Kozhikode. 
Reasons for Air India Express flight crash at Karipur airport being investigated says Union Civil Aviation Minister Hardeep Singh Puri 
Will hold consultations with senior civil aviation officials, professionals, says Hardeep Singh Puri
Digital Flight Data Recorder & Cockpit Voice Recorder of the ill-fated aircraft have been retrieved. Aircraft Accident Investigation Bureau (AAIB) is conducting probe: Hardeep Singh Puri says
Union Civil Aviation Minister Hardeep Singh Puri visits the Kozhikode crash site, takes stock of the status and implementation of relief measures. 
Health Minister K.K. Shailaja has asked rescue workers to self-quarantine. The minister said that all those who came to the rescue in the vicinity of the airport, which is a zone, should be vigilant for their own safety and security of the country.

22 passengers have been discharged from a hospital. They will now be in isolation. 
Black Box of the Air India plane recovered. Digital Flight Data Recorder (DFDR) has been found. Floorboard is being cut to retrieve Cockpit Voice Recorder (CVR), DGCA says
Atleast 15 passengers including one pregnant woman and 4 kids are said to be critical.
Four cabin crew members of the Air India Express flight that crash landed at the Karipur airport are safe, the national transporter says. Air India Express Employees Union said cabin crew suffered some injuries and are under treatment at the Kozhikode hospital.
"I have seen debris, Air IndiaExpress aircraft is broken into 2 pieces. Inspection is being done. Some part of aircraft was torn apart during rescue operation. DGCA has announced enquiry. Civil Aviation Minister will reach around 12 pm": V Muraleedharan, MoS External Affairs
Nepal Foreign Affairs Minister ​Pradeep Gyawali says: "Deeply saddened by the news of Air India Express aircraft's accident in Kerala, India last night. Nepal extends deep condolences to the bereaved families and wishes for speedy recovery of those injured."
Directorate General of Civil Aviation (DG), Civil Aviation Ministry senior officials, Airports Authority of India, and Air Navigation Service members to meet in Delhi today over crash landing of an Air IndiaExpress flight in Kozhikode yesterday.
Among those who died in the crash, two have tested positive for COVID-19. Now, the rescue teams will also have to undergo tests. 

The Indian Consulate in Dubai will remain open on Saturday to help those who need assistance to travel to Kerala and provide information about the crash. Helplines: +97156 5463903, +971543090572, +971543090571, +971543090575." The helpline number to call in Sharjah for updates is +97165970303. Air India Express has also established a helpline number in Sharjah at +971 6 5970303.

Union Civil Aviation Minister Hardeep Singh Puri says he would visit the Karipur airport today. He further said the task would have been much more difficult if the plane had caught fire. 

"Under the Vande Bharat Mission, the flight was coming from Dubai carrying 190 passengers. Pilot must have tried to bring the flight to the end of tabletop airport's runway where it skidded due to slippery conditions owing to monsoon."

Kerala Governor Arif Mohammad Khan and Chief Minister Pinarayi Vijayan to visit Karipur today. 
Air IndiaExpress says two special relief flights have been arranged from Delhi and one from Mumbai for rendering humanitarian assistance to all the passengers and the family members. AAIB, DGCA & Flight Safety Departments have reached to investigate the incident. 
At least 19 people have lost their lives in the plane crash. About 110 people were admitted to hospitals in Kozhikode and 80 to hospitals in Malappuram.
WATCH VIDEO