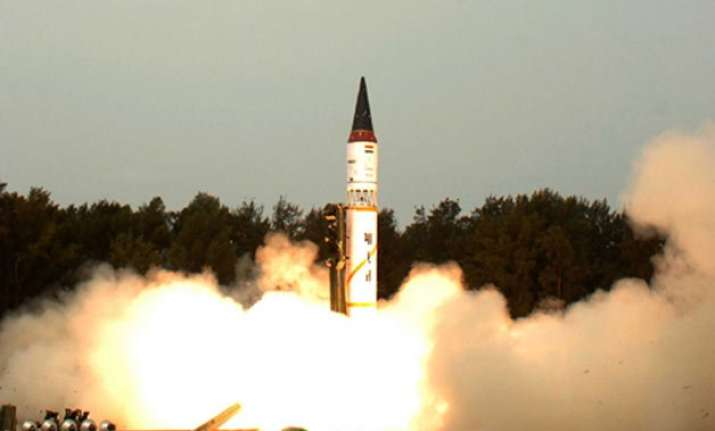 New Delhi: Agni-V, latest addition to India's fire power, is the longest range missile in India. With its third successful test, India is one step closer to become a missile superpower.
The intercontinental ballistic missile (ICBM) Agni V is the fifth missile of Agni category. Its range can be estimated above 5000 kilometer (exact range of Agni V is classified).
Here are few things you should know about Agni V:
1-Project to develop Agni V was started in 2009 by Defence Research and Development Organisation. The first test launch was conducted on April 19 2012 and the second test launch was done on September 15, 2013.
2-It is India's first Intercontinental Balllistic missile that can geographically cover all of China in the east and all of Europe in the west.
3-The missile is capable of carrying nuclear warheads, taking India's nuclear deterrence and preparedness to another level.
4-The highest speed that can be achieved by the missile is Mach 24 i.e 24 times the speed of sound (8000 m/s=28,800 km/hour approx.).
5-India has joined an elite club of Russia, China, US and France that have a capability of launching intercontinental missile.
6-The missile weighs 50 tonnes and can carry 15 tonnes of warhead. The length of the missile is 17.5 meters and its diameter is 2 meters.
7-The three stage engine is solid state fueled that lifts it to the height of 800 kilometers above earth. The missile then lands to the designated target accurately (less than 10 m).
8-The development cost of the missile is Rs.2500 crore and per unit will cost Rs. 50 crore. The guidance system deployed in Agni V is Ring laser gyroscope based inertial navigation system (RINS), most accurate of the guidance systems.
9-The launching platform of the missile can be 8*8 Tatra transporter erector launcher and rail mobile launcher. In future, Agni V will have Multiple Independent Re-entry Vehicles (MIRV). MIRV will enable each missile to carry 2-10 warheads assigned to targets separated by hundreds of kilometers. Multiple warheads can be assigned to single target.
10-Induction of Agni-V means, India will have most advanced missile system under integrated guided missile development programme (IGMDP). Agni missiles system, Agni-I with the range 700 kms, Agni- II with the range of 2000 kms, Agni-III with the range of 3500 kms, Agni- IV with the range of 3000 kms and now Agni-V can neutralize any target.