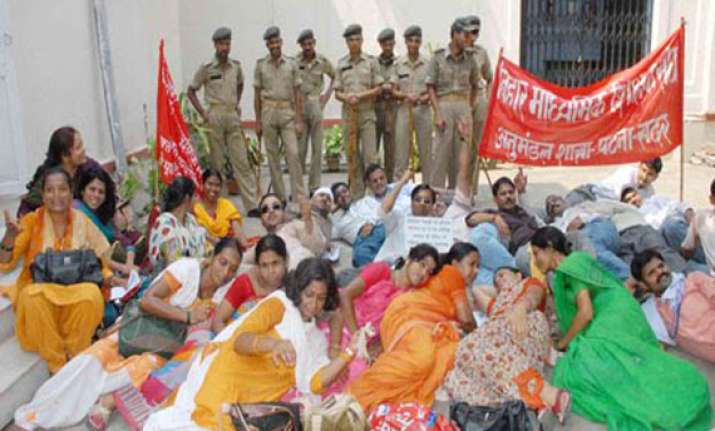 Patna, Mar 5:  The ongoing protest by contractual teachers in Bihar took a violent turn today as agitators, irked over police lathicharge, torched two police jeeps and damaged over half-a-dozen buses and other vehicles, including that of a BJP legislator.
The R-Block area, around 500 metres from the Assembly, where contractual teachers are holding protest dharna, turned into a virtual battle field witnessing violent clash between the protesters and the police.
City Superintendent of Police Jaykant said the agitators torched two police vehicles while more than 10 vehicles have been damaged.
Following stone pelting, tear gas shells were fired by the police and force used to control the agitators.  
The vehicle of a BJP Legislator was also damaged by the protesters, police sources said.
Traffic was disrupted in many parts of the state capital.  The Opposition raised the matter in the state legislature, disrupting question hour, and demanded a statement from the Education Minister.  
The RJD, Congress and CPI protested in the Legislative Council resulting in its adjournment for an hour.  
The agitators are demanding regularisation of jobs and pay parity with regular teachers.