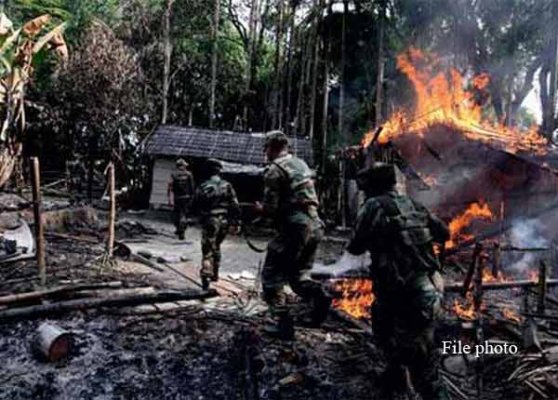 New Delhi: In the aftermath of Bodo militants killing 71 people, Adivasis in Assam's Chirang district killed two Bodos.
The Adivasis also torched a Bodo village in Kokrajhar district, reports say, adding that the two Bodos were hacked to death.
On Wednesday, Union Home Minister Rajnath Singh assured Assam Chief Minister Tarun Gogoi of an NIA investigation into the killing of 71 villagers by NDFB(S) militants in three districts of the state.
READ MORE: Assam: More violence as toll rises to 71, backlash by Adivasis
Singh, accompanied by MoS for Home Affairs Kiren Rijiju and Union Tribal Affairs Minister Jual Oram, held a high level meeting with the Chief Minister and senior civil, police, army and para-military officials.
Rajnath Singh and Gogoi both said during the meeting that there will be no compromise on security and stringent steps will be taken to contain the situation.
All the three Union Ministers will visit the violence-affected areas today.
Three people were killed yesterday, when police fired at angry Adivasis who took to the streets protesting Bodo militants attack.
There were also reports of burning of houses in many parts of the state. Police said the violence also spread to neighbouring Udalguri district.
"The Central government has taken the matter seriously, and we are going to deal with the militants firmly," Gogoi said.
"We are not going to surrender to them. We cannot allow these forces to continue," he added.
Meanwhile, the Assam government has announced ex-gratia of Rs.5 lakh to families of the dead and Rs 50,000 to those injured.
The Prime Minister's Office (PMO) said Rs 86 lakh will be released to the Assam government.
The attacks in the three districts of Kokrajhar, Sonitpur and Chirang began around 6.15 pm Tuesday, almost simultaneously.