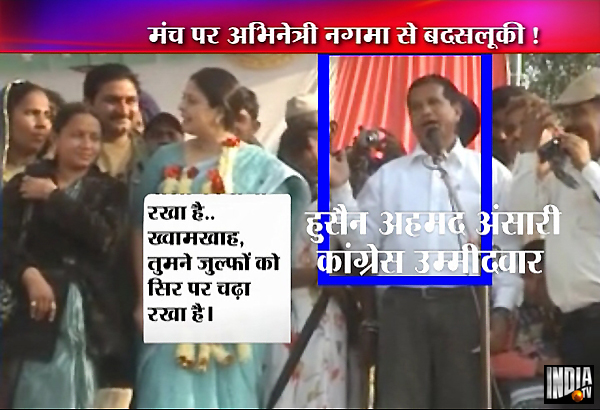 Bijnore, UP, Feb 23: The act was not there at all in the script. 

The script was confined to Bollywood actor Nagma endorsing the candidature of Congress candidate Hussain Ahmed Ansari, but Hussain went a tad too far.

Nagma had come here as part of the Congress party's election campaign, and Hussain was constantly trying to come close to her.

The actor wanted him to be kept at arm's length, but the man was eager to garland her, and in doing so his fingers, deliberately or otherwise, touched her  shoulder.

And what happened on the dais went totally against the script. Nagma gave him a severe tongue-lashing.

'Aap itne naaraaz na hon'....'Aap bakwaas karne aaye hain'...'Nahin, main bakwaas nahin kar raha hoon', were some of the verbal arrows aimed at each other.

Now, over to the voter for the final verdict.
Nagma had gone to Barhapur with Congress spokesperson Rashid Alvi to canvass for the party candidate.  Hussain Ahmad Nasari while garlanding her, placed his hands on her shoulder, and a furious Nagma asked him to go and stand at some other place.
 
To top it all, when Ansari began addressing the crowd, he read out this cheap couplet : "ye kaun sa gham hai, jo yeh haal bana rakha hai, Na makeup hai, na baalon ko saja rakha hai, Khwamkhwah chhedti rahti ho, rukhsaaron ko,  Tumne zulfon ko sir par chadha rakha hai".
 
Nagma firmly objected to this cheap shero-shayri and finally left the venue in a huff.