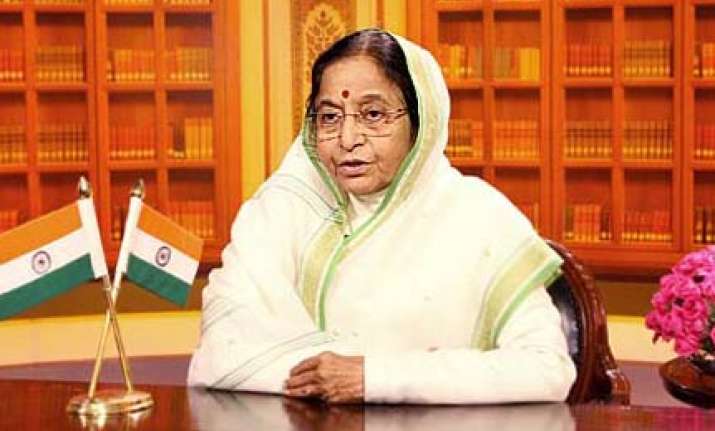 The President Pratibha Patil On Saturday appealed to Maoists to abandon the path of insurgency and join the mainstream of development.  
In her Address to the Nation over Doordarshan on the eve of Independence Day, Patil referred to the issue of Maoist violence and said : "(Nationbuilding) requires a spirit of conciliation.  This is possible when dialogue is chosen as the  channel for communication. By listening to each other, respecting each other's viewpoint and understanding one another, we can address issues before us.
"The proponents of extreme ideologies and the followers of Left Wing Extremism must abandon their path of violence.  I call on them to join national efforts for growth and development. I hope that everybody, including the civil society will come forward and move them in this direction. Protracted development efforts will be needed in these areas", the President said.
Patil also called for what she called "moral renaissance" in the face of growing materialism in society. She said: "…with an increasing emphasis on materialism, there is growing insensitivity towards each other. Strong family bonds are weakening.  Social consciousness is on the decline.  Some social evils persist.  This must change.  
"Today is the best opportunity when ground-breaking achievements alongwith a moral and ethical renaissance can take place. In this way, progress would be anchored in values of compassion, tolerance and selfless service, which are important for making human life meaningful and purposeful.  These values will make our multi-cultural, multi-religious, multi-lingual society more robust. They will also give us a strong base on which a stable structure of prosperity and progress can be raised".
Citing an example, she said: "As a kite surges high into the sky, it is affected by the breeze and the clouds.  If the string is firm and skillfully handled, the kite will stay afloat, otherwise it can go adrift, be cut off, fall and be destroyed.  The kite is much like our growth voyage with the string and the firmness with which it is handled, representing the ethical base.  India is the abode of infinite values – let us strive to restore these as we go along the path of progress."  
The President also stressed on the need for spreading education.  "The Right to Education Act has made free and compulsory primary education for children a fundamental right. It is important that secondary education is also universalized, as we seek to increase enrollment levels in higher education", she said.
"This will provide the "brain power" for the nation. We are living in an age where innovation is shaping many areas of human activity. New technologies can enhance our agriculture and industrial productivity.  Efficient technologies can facilitate the optimum utilization of capital, labour and resources. We have seen the impact of mobile telephone connectivity even in our villages. Innovation and invention were always given weightage as agents of change but perhaps never as high as now.  The categorization of nations as rich and poor, developed and developing may well be overtaken by a new definition of those nations that innovate rapidly, as opposed to those which do so on a lower scale. To be in the forefront of cutting edge technologies, research and development in all fields must be encouraged and pursued in the country. "
The President ended her speech with  "Gagan Gagan Tera Yeh Fehraa, Pawan Pawan Tera Bal Gehraa"  (Across the skies your fame has spread,with every breeze your strength grows)  
The President is presently spending her weekend holiday in the backwaters of Kerala.  On Saturday, she witnessed the annual Negur Trophy Boat Race held at Punnamada lake near Alappuzha. She extended hearty Onam greetings to the people of Kerala.