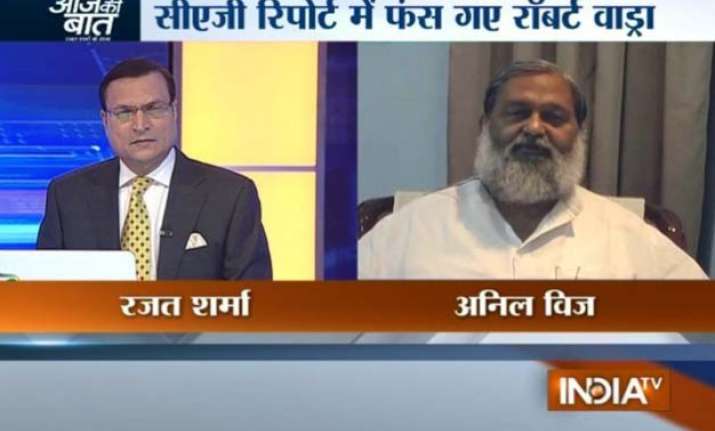 The CAG  in its report  on Tuesday has blamed Haryana's previous Congress government led by the then Chief Minister Bhupinder Singh Hooda for showing undue favours to Robert Vadra, the son-in-law of Congress president Sonia Gandhi, in his controversial land deals with realty giant DLF.
In an exclusive interview with India TV, Haryana health minister Anil Vij said that it is clear from the CAG report that erstwhile Hooda government made undue favours to Robert Vadra.
Vij also said that Robert Vadra, with change of land use (CLU) permissions, purchased land at Rs 15 crore and a month later, he sold it to DLF at 58 crore.  he pointed out that such huge profit is not seen in other business.
He said the Haryana govt will take prompt action and justice will be done.  
"We have earlier said, Hooda govt, in its 10 years rule, acquired 70, 000 acre of land. We want to investigate every inch of land purchased during that perio," Vij said..
In its report for the year 2013-14, tabled in the Haryana Assembly today, the official auditor has come down heavily on the Town and Country Planning Department of the state.
Though the report did not name Vadra, his company, Skylight Hospitality, was named. Skylight Hospitality, the report noted, sold a prime 3.5 acre piece of land in Manesar in Gurgaon district to DLF in 2008 for Rs 58 Crore.
The report said that the "possibility of extending undue benefit to particular applicant (Vadra's company) cannot be ruled out". It has also questioned the "distinction" made by the Hooda government for Vadra's company in giving permissions.
Also Read: Hooda government favoured Vadra in land deals: CAG
The Hooda government, on its part, had obliged Vadra with quick sanction of the permissions required.
Senior bureaucrat Ashok Khemka had ordered the scrapping of the land deal terming it illegal.