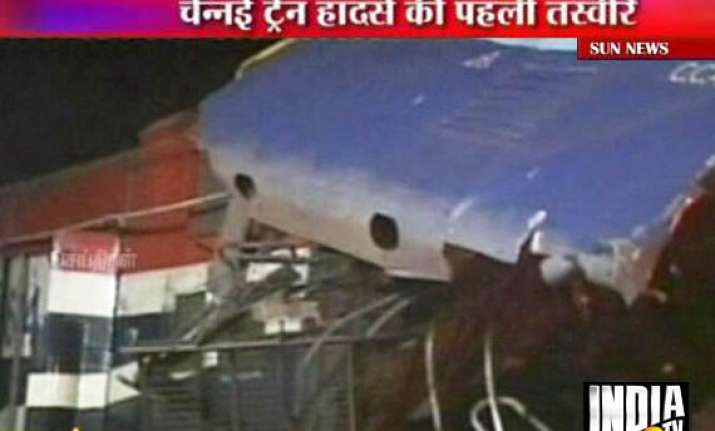 Sitheri (TN), Sept 14: A human error may have led to the train accident last night in which nine persons were killed with Railway authorities today saying the driver of the EMU train that rammed into the rear of a stationary passenger train jumped a few signals and ignored speed restrictions.

The driver of the Chennai Beach-Vellore Cantonment Mainline Electrical Multiple Unit (MEMU) train that crashed into the Arakkonam-Katpadi passenger as it was waiting for signal clearance here around 9.40 pm last night also jumped out of his cabin just before the collision near Arakkonam junction, Railway officials said.

At least 100 persons were also injured in the collision which led to derailment of five coaches at Sitheri, about 90 km from Chennai, police and railway officials said. Three of the five derailed coaches were of the stationary train.

Rescue workers used gas cutters to help pull out the trapped passengers from the derailed bogies while two cranes were pressed into service to clear the tracks.




Railway Board Chairman Vinay Mittal said that according to preliminary report it could be a human error.

"The driver(of MEMU train) apparently had passed a few signals at yellow and a few at red also and has collided with the passenger train waiting for signal clearance a a speed in excess of 90 km per hour," said Deepak Kishan, General Manager of Southern Railway.

"Why he has done that we don't know, The driver is very badly injured and apparently just before the impact he jumped out of the train and injured himself," he added.

The driver identified as A Rajkumar is among the injured and a breath analyser test showed he was not under the influence of alcohol, officials said.

The impact of the collision could be gauged from the heap of mangled metal and derailed bogies which the rescue workers are trying to clear.
Officials said the last bogie of the stationary train bore the brunt under the impact of the collision.

Railway Ministry spokesperson Anil Kumar Saxena said prima facie the cause of the accident seems to be overlooking of the signal and non-adherance of the speed restrictions.

Railways have ordered an inquiry into the train accident.

"The Commissioner Railway Safety, Southern zone, SK Mittal will conduct an inquiry into the cause of the accident and submit the report at the earliest," Railway Ministry spokesperson Anil Kumar Saxena said in New Delhi.  

Railway Minister Dinesh Trivedi, who visited the hospital in Chennai where the injured have been admitted, said a comprehensive probe would be launched to ascertain if the accident occurred due to human error or technical fault.  

Terming the accident as "unfortunate", he said preliminary investigation has revealed that the accident took place due to over speeding of the EMU train.  Meanwhile, the Tamil Nadu Assembly has expressed grief over the accident and conveyed its condolences to the families of the victims.

When the Assembly met for the day, Speaker D Jayakumar moved a resolution and expressed "shock" and "grief" over the mishap.

The accident disrupted train services to Coimbatore and Bangalore in the Chennai-Katpadi section and both the up and down track were expected to be restored by around 6 PM today.

This is the third major rail accident in two months. On July 10, 70 people were killed when the Howrah-Kalka Mail derailed near Kanpur and three weeks lat r some coaches of Guwahati-Bangalore Express derailed in West Bengal's Malda district and were hit by another train leaving three dead. PTI