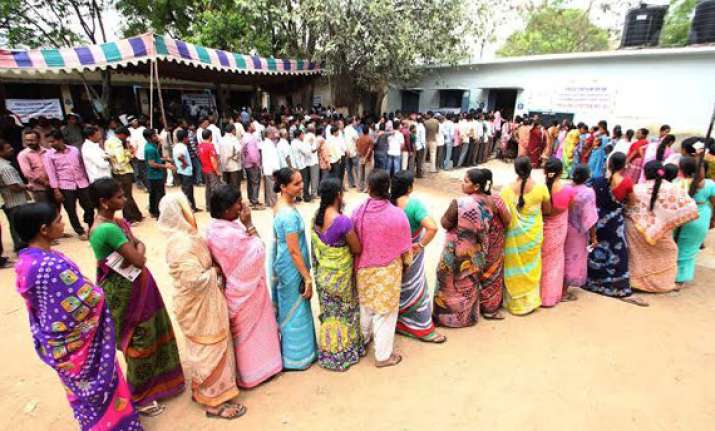 Hyderabad: People of Telangana today turned out in big numbers to cast their votes in the largely peaceful polls as an air of expectancy enveloped the region that would formally recieve the statehood tag in less than five weeks.  Police also heaved a sigh of relief as the simultaneous elections to 17 Lok Sabha and 119 Assembly constituencies, including ten left-wing extremism-affected ones, in Telangana passed off trouble-free, barring stray incidents.  "In 2009, the overall poll percentage (in ten districts of Telangana) was 67.71 per cent. Now in 2014, as per tentative figures, its 72 per cent which is further likely to go up," State Chief Electoral Officer Bhanwarlal told reporters this evening.
Andhra Pradesh Director General of Police B Prasada Rao said the polling was by and large peaceful.  "15 cases of violence were reported during the polling in various districts so far and cases have been registered at respective police stations," Rao said.
Nalgonda district reported the highest voter turnout of 81 percent and Hyderabad 53 percent as per tentative figures.  As many as 2.10 crore of the total 2.81 crore voters cast their ballot. "Its a good turnout," Bhanwarlal said.  A total of 1,669 candidates are in the fray for 119 Assembly seats while 265 contested for the 17 parliamentary seats.
He said 583 electronic voting machines were replaced on the account of technical problems, which is not even one per cent of total EVMs used in the elections today.  Four helicopters of the Indian Air Force were stationed in districts for contingencies even as a strong posse of 90,000 police and para-military personnel deployed in ten districts of Telangana, which would come into being as a new state on June 2, to oversee security.
The polls passed off peacefully in the Maoist-affected districts and there were no untoward incidents reported, police said.
Congress, Telangana Rashtra Samiti (TRS) and Telugu Desam-Bharatiya Janata Party combine are the main contenders but the first two are seen to be the front-runners.  Prominent among those seeking election to Lok Sabha are:
Union Minister S Jaipal Reddy, TRS president K Chandrasekhar Rao, his daughter Kavitha, Loksatta Party chief Jayaprakash Narayan, former DGP V Dinesh Reddy (YSR Congress), CPI state secretary K Narayana and Majlis chief Asaduddin Owaisi.  The TRS supremo is also contesting the Assembly election, where other prominent candidates in the fray include Telangana Pradesh Congress Committee President Ponnala Lakshmaiah and Telangana BJP chief G Kishan Reddy.
In Hyderabad, barring some sporadic incidents, elections to 15 Assembly and two Parliamentary constituencies in the city went off peacefully. Police booked cases against some candidates of different parties on various allegations including for violating model code of conduct.