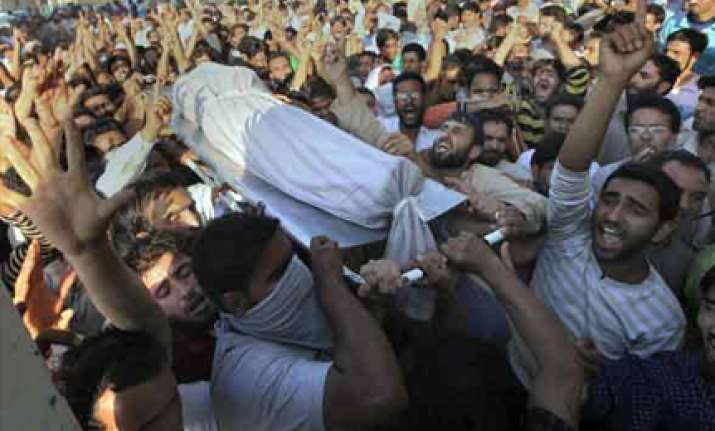 Srinagar : A fresh wave of protests in Kashmir Valley on Monday claimed seven lives and left 250 injured as police opened fire to disperse rampaging mobs who indulged in stone-pelting, attacked government buildings and looted weapons from police.
Defying curfew, stone-pelting protesters took to streets in several places and attacked police stations and CRPF camps in the Valley where 22 people have been killed and over 500 injured, including 200 security force personnel, in violence since last Friday.
One protester was killed in police firing after agitators attacked a police post and attempted to set it afire and another perished late tonight in Kulgam district. In adjacent Sangam in Anantnag district, one person was killed when CRFP personnel retaliated to heavy stone throwing at their camp, police said, adding another person died in a stampede following the firing.
At Kakpora, in south Kashmir's Pulwama district, police opened fire on a group of stone-pelting protesters who were indulging in ransacking, killing one of them.
One person was killed in Kralpora in north Kashmir's Kupwara district when police fired on a mob which looted arms from a police post. The agitators managed to flee with four rifles.
A boy, injured in violence in Batmaloo district this afternoon, succumbed in the evening, police said.
Protesters this afternoon set afire all the four buildings in a police station at Rajpura in Pulwama district injuring 20 people.
"Rampaging mobs violated curfew restrictions at various places in Kakapora, Pulwama, Budgam, Anantnag, Kulgam and Kupwara destroying police and public properties," police department said in a statement.
Earlier in the day, protesters set afire two government offices and a railway structure in central Budgam district. Three protesters were injured there as police tried to contain the violence.
Three people were injured in firing in Bemina on the outskirts of Srinagar.
A person identified as Tariq Ahmed, who was hit by a teargas shell three days back in Bijbehara in south Kashmir, succumbed to his injuries in a hospital here.
Meanwhile, the Centre today rallied behind Jammu and Kashmir Chief Minister Omar Abdullah in handling the situation in the Kashmir Valley and indicated it is committed to carrying out political initiatives for which peace is a prerequisite.
Arriving in New Delhi this morning, Omar called on Prime Minister Manmohan Singh who chaired a high-level meeting to discuss the current unrest in the Valley and find an administrative and political way out.
He briefed the meeting in which all the members of the Cabinet Committee of Security (CCS) including Finance Minister Pranab Mukherjee, Home Minister P Chidambaram, Defence Minister A K Antony and External Affairs Minister S M Krishna were present on the latest turn of events in Kashmir which witnessed a spurt in violence.
As violence further escalated in Kashmir Valley, Chief Minister Omar Abdullah on his return from Delhi chaired a meeting of the Unified Command here and reviewed the measures in place to tackle the situation.
Omar chaired the meeting, attended by the top brass of army, security forces, state police, IB and civil administration, after returning from New Delhi where he had called on Prime Minister Manmohan Singh and Home Minister P Chidambaram.
The Chief Minister took stock of prevailing law and order situation in the valley and also reviewed the measures in place to handle the situation and restore normalcy, officials said.
Fresh wave of protests rocked the Kashmir Valley as police opened fire to disperse rampaging mobs who indulged in stone pelting, attacked government buildings and looted weapons from police.
Earlier in the day, Omar had said political initiatives were required to deal with the situation in the Kashmir Valley but made it clear there should be some semblance of normalcy first. PTI