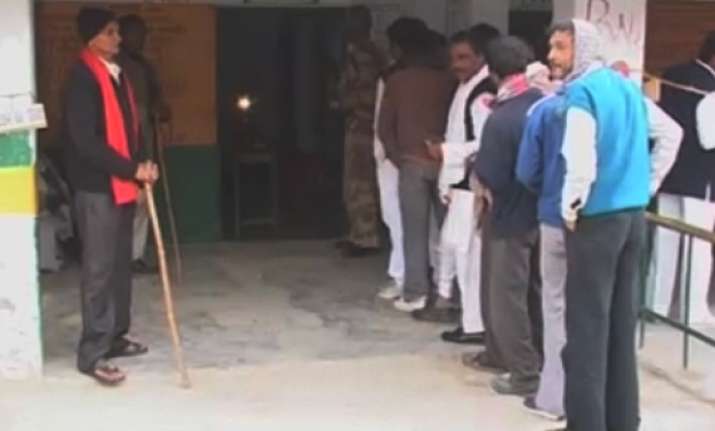 Lucknow, Feb 15: Around 56 per cent of the 1.75-strong electorate today exercised its franchise for 56 seats in the third phase of the UP assembly polls in which Mayawati's ruling BSP is facing a strong challenge from Congress, SP and BJP.

The incident-free third phase of the seven-part elections in the state will decide the fate of three cabinet ministers, a minister of state, 29 sitting MLAs and 14 former ministers.

The polling, which began on a sluggish note at 18,374 booths spread over 10 districts, picked up as the day progressed with state election officials putting overall turn out at around 56 per cent.



 
As many as 1,018 candidates were in the fray for elections held in Amethi and Rae Bareli, pocket boroughs of Nehru-Gandhi family, CSM Nagar, Sultanpur, Kaushambi, Allahabad, Jaunpur, Varanasi, Sant Ravidas Nagar and Naxal-hit areas of Chandauli, Mirzapur and Sonbhadra.

The remaining phases of polling for 403-strong Assembly will be held on February 19, 23, 28 and March 3. Counting of votes will take place on March 6.

The first phase of polling on February 8 in 55 constituencies in 10 districts had recorded around 63 per cent turn out while the voting percentage in the second phase on February 11 for 59 seats spread over nine districts was 59 per cent.



 
Till late afternoon, Sultanpur district had recorded a maximum of 50 per cent polling, whereas 44.88 per cent was registered in Jaunpur.

"Voting began at 7 AM for the third phase of assembly elections and 47.05 per cent polling was recorded till 3 PM," Election Commission officials said here. Among other districts, CSM Nagar recorded 47 per cent, Kaushambi 47 per cent, Varanasi 46.62 per cent, Bhadoi 47 per cent and Sonbhadra 46 per cent till about two hours before close of polling.

In this phase, at least 121 candidates with criminal background and as many as 48 'crorepatis' were in the fray. A total of 2,025 polling stations were identified as sensitive and 1,766 as hyper sensitive.



 
Chief Electoral Officer Umesh Sinha said that 1,122 video cameras and 1,190 digital cameras were pressed into service to maintain a vigil on the poll process.

Stakes are high for ruling BSP, Congress, SP and the BJP in the no-holds-barred fight for the assembly seats.  In the third phase, the fate of cabinet ministers Indrajit Saroj (Manjhanpur), Nand Gopal Gupta alias Nandi (Allahabad South) and Dharmaraj Nishad (Shahganj) and minister of state Vinod Singh (Lambhua) would be sealed.

Former secondary education minister Rangnath Mishra is contesting from Mirzapur Sadar seat on a BSP ticket, whereas sacked higher education minister Rakesh Dhar Tripathi is in fray as an independent from Handiya seat in Allahabad.

Two BJP heavyweights Legislative Party Leader Om Prakash Singh is contesting from Chunar and former Assembly Speaker Kesari Nath Tripathi from Allahabad South seat.

Shekhar Bahuguna, brother of state Congress president, Rita Bahuguna Joshi, is in fray for Phaphamau seat in Allahabad, whereas Ujjwal Rama Singh, son of SP MP and former Minister Reoti Raman Singh, is from Karchana seat.

Fate of sitting Congress MLA Amita Singh and National General Secretary of Apna Dal Anupriya Patel would also be decided in this phase apart from a number of heavyweights.

Former MP and accused in several cases Ateeq Ahmad is Apna Dal candidate from Allahabad West seat. Brijesh Singh, an alleged mafia don, is in fray from Syedraza seat in Chandauli district as Pragatisheel Manav Samaj candidate.



 
Accused in several shootouts Prem Prakash Singh alias Munna Bajrangi, currently lodged in Tihar jail, is in the contest as Apna Dal candidate from Madiyahon in Jaunpur district.

SP MLA Vijay Mishra, who is currently lodged in jail in connection with attack on Cabinet Minister Nand Gopal Gupta alias Nandi, is seeking re-election from Gyanpur seat in Bhadoi district.

Jagriti Singh, wife of BSP MP Dhananjay Singh, lodged in jail in a double murder case, is contesting from Malhani seat in Jaunpur district as an independent candidate.


Other prominent candidates include six time MLA from Varanasi South Shyam Dev Rai Chaudhary (BJP), five time MLA from Malhani and two time MP Parasnath Yadav (SP) and former bureaucrat Rajendra Pandey (SP) from Manjhwa seat in Mirzapur district.
In 2007 assembly elections, the third phase had covered 52 seats, of which BSP won 31, SP 11, BJP 6, Congress 3 and independent one. In this phase, 42.6 per cent polling was recorded.