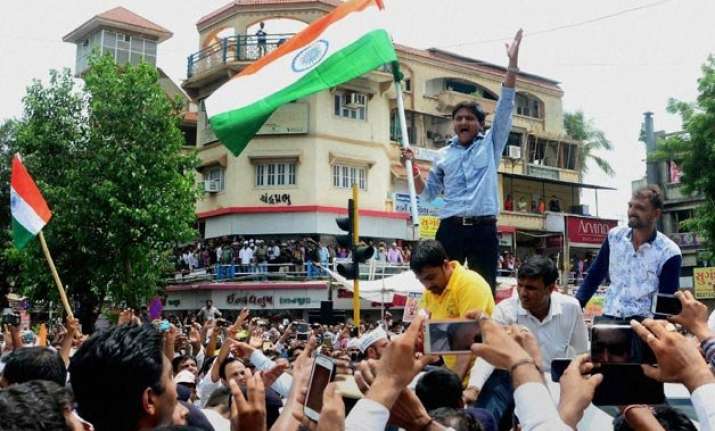 New Delhi: 21-year-old Paatidar leader Hardik Patel is proving to be a headache for the Gujarat government as he showed his strength today when he succeeded in uniting lakhs of community members at the protest site in Ahmedabad.
The young Turk is not only a capable organiser but a good orator who puts enthusiasm in the people with slogans and his passionate speech.
In his speech today, Hardik Patel evoked Sardar Vallabh Bhai Patel's name with full fervour to put zeal in the crowd that had gathered under intense sun.
Hardik Patel's speech today was engulfed with filmy dialogues.
Let's take a look at Hardik Patel's filmy dialogues in his speech:
1-Ye 100 metre ki daud nahi marathon hai (This is not a 100 mtr sprint but a Marathon)
2-Ham jahan se nikalte hain wahi se kranti shuru ho jati hai (The Revolution begins from where we stand)
3- Hamara haque pyaar say do, warna cheen legeye (Give our rights peacefully or we will snatch it)
4-Bheek nahi maang rahe hum log, haque maang rahe hain (We are not beggars, what we are asking for is our right)
5- Apna haque le ke rahegye (We will not stop until we get our rights)