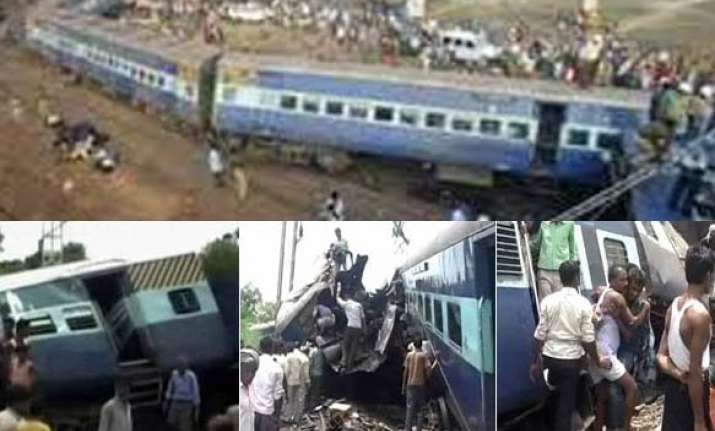 Fatehpur, Jul 11: 30 more bodies including that of two Swedish nationals were extricated today from the mangled compartments of the ill-fated Delhi-bound Kalka Mail taking the the toll in Sunday's derailment to 68. 

"Rescue and relief operations by the police, army and National Disaster Response team are over. 68 people were killed in the derailment in Malwan," Special Director General of Police Brij Lal told reporters in Lucknow. 

"Of the 68 killed, 46 have been identified and 19 bodies have been claimed by the kin of the victims," he said.  14 women are among the dead.

He said 249 people were injured in the accident of which 103 were admitted to the district hospital and private nursing homes in Fatehpur, 68 in Kanpur, 13 in Allahabad and 2 in Lucknow.




"Rest of the 63 persons were discharged after first aid," he added.

Fatehpur Superintendent of Police Ram Bharose said two Swedish nationals were among the dead. They are Eric Anders Rurik (21) and Richer Carl Victor (22). Another Swedish national Ocar Hultman (22) was being treated for injuries.

H C Joshi, General Manager, North Central Railway, said the tracks will be cleared by tomorrow. 

Minister of state for Railways KH Muniappa, who met the injured at the district hospital in Fatehpur, refused to comment on the reasons for the train tragedy, saying it would be better to speak about them only after the completion of the high-level inquiry which has already been ordered.




The derailment took place at 12.20 PM yesterday when the packed train from Howrah reached near Malwan station, nearly 120 kms from Lucknow. The train was moving at a speed of 108 km/hour.

Rescue operations continued through the night to extricate the trapped passengers and bodies from the badly damaged AC and other compartments.

Munniappa, who accompanied UP governor BL Joshi to the hospital, said that at the moment it was necessary that every possible help is extended to the affected families.  A special train that left Kanpur carrying 167 passengers of the ill-fated train reached New Delhi this morning.

At the accident site, Railway Board Chairman Vinay Mittal said by tomorrow morning, the Howrah-Delhi route should be cleared off.

He said an inquiry by the Chief Commissioner of Railway Safety (Lucknow) Prashant Kumar has been ordered into the incident.




Mittal said there was no fault in the track and the cabinman had told him that when the train was close to pole number 927/23, its engine started shaking and emitting smoke, after which the mishap took place.

According to preliminary investigations, the signals were functioning normally and the fish plates on the tracks were intact, Mittal said.

While some of the bogies had toppled, others were turned into a mangled heap of metal. Gas cutters and other equipment were used to slice through the metal in the AC and other coaches to rescue the trapped passengers.

Official sources said rescue operations were hampered at around 2 pm following heavy rainfall.  The rescue teams, which had been cutting the bogies all through the night with the help of gas and electric cutters to bring out the passengers trapped inside, had to tread with caution as there was a risk it might lead to fire in the train, they said.

Late in the night, the rescue team successfully extricated a woman and man in injured condition around 3.30 am from an AC coach, sources added. PTI