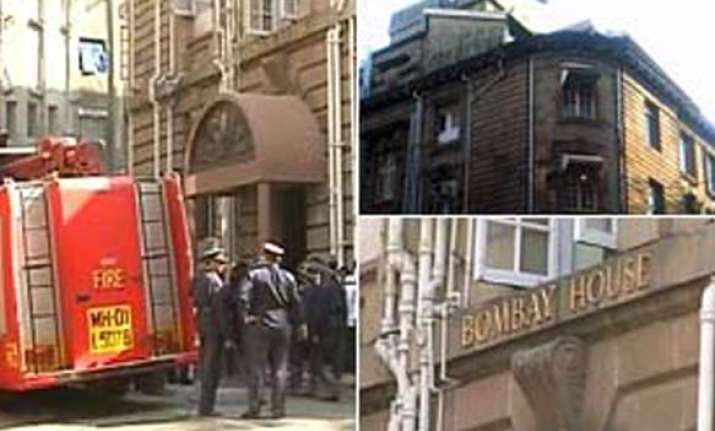 Mumbai, Feb 9: Three persons were killed and two injured in a fire that broke out today in the basement of the Tata Group's global headquarters 'Bombay House' here.
The fire was reported at 0920 hours from the basement of the iconic four-storey structure near Hutatma Chowk in South Mumbai, fire brigade officials said.
In a statement, a Tata Group spokesperson said the fire started before the office hours and was soon brought under control and people were evacuated.
All the deceased - Farad Wadia (40), Eashwar Patel (45) and Shashank Pawar (30) - worked in a canteen housed in the building basement, Chief Fire Officer Uday Tatkare said.
"They are believed to have died due to suffocation,"Tatkare said, adding the blaze is suspected to have started from a split air-conditioning unit in the basement, which also has some offices along with an auditorium.
The injured have been identified as Chandrakant More and Shivaji Desai and are currently admitted in ICU at St George Hospital, a medical officer at the civic body-run hospital said, adding their condition is stable.
Tatkare said though fire-fighting equipment was in place in the colonial structure, it was not in the auto mode which caused more damage. "We found the system was in the manual mode and not the auto mode. Hence, the severity of the fire was more," he said.
Besides, those stuck in the basement chose a wrong route to escape after the fire started, ending up walking into an area having thick smoke, Tatkare said. He said some norms were also overlooked.
A statement issued by the Tatas said authorities are investigating the cause of the incident and the group is fully cooperating with the investigations.
It said the Group offers deepest condolences to the bereaved families and added that relief was being organised, it said.
Built in 1924, 'Bombay House' has head offices of a majority of Tata Group companies like Tata Power and Tata Motors, which owns marquee brands like Jaguar Landrover.
The offices of senior Tata management, including group Chairman Ratan Tata, are also situated in the same building. PTI