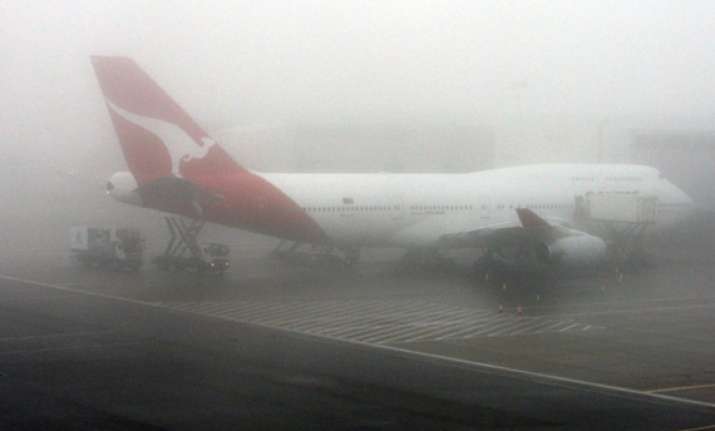 New Delhi, Jan 18: The first spell of dense fog this year wreaked havoc on air operations at the IGI airport today hitting over 250 flights and causing inconvenience to flyers.

Atleast 207 domestic and international flights were delayed by five to six hours as the runway visibility remained below the prescribed minima for low visibility take-off of 125 and 150 metres for different types of aircraft. 

Four flights, two each of Jet Airways and SpiceJet, were diverted to Jaipur, Ahmedabad and Indore while 17 flights were cancelled, an airport official said.

Though the airport was witnessing shallow fog since 8.30 PM last night, the flight operations were not affected.  But the situation started to deteriorate after 1.40 AM, when blinding fog enveloped the airport, reducing the runway visibility to less than 100 metres.

The situation remained same around 10 AM, when the fog dissipated and visibility increased.

Virtually there was no flight operation between 1.40 AM and 9.40 AM as the runway visibility hovered between 75 and 100 metres for new runway (29/11) and between 100 to 125 for main runway (28/10), below the prescribed norm. 

However, flights arriving here were able to land using the CAT-III B instrument landing system (ILS). 

The fog was so dense that the general visibility also dipped to less than 50 metre, an airport official said, adding the low visibility proccedure was implemented on main runway at 1.46 AM and and on new runway from 3.45 AM. It was terminated at around 11.20 AM.

Met department has predicted more dense fog for the next few days.

"The visibility may reduce to 200 metres in CAT-III dense fog from 1.30 AM tomorrow, and it may further reduce to below 50 metres from 4.30 AM but may improve upto 400 metres from 9.30 AM," the airport Met Department said.