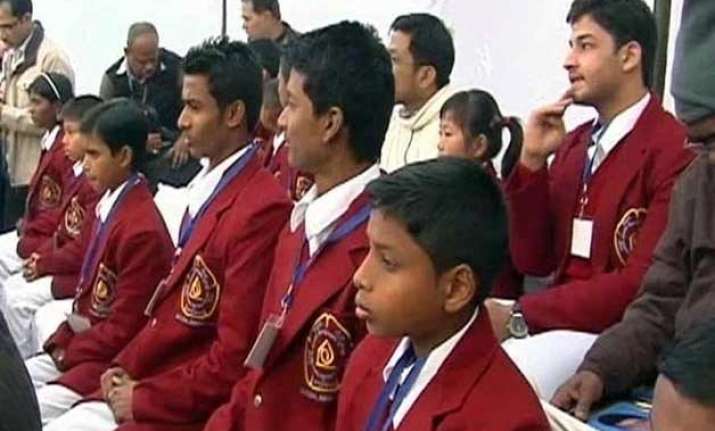 This year, 25 children including 3 girls and 22 boys have been selected for the National Bravery Awards 2015 for their extraordinary courageous feats.
Among them two of the Awards will be awarded posthumously. 
These selected children will receive the honour from Prime Minister Narendra Modi on January 24 and will also participate in Republic Day parade. 
There are also several functions organized by their respective native States to honour them. 
The selection of these 25 brave hearts was made by a high powered committee comprising representatives of various Ministries/Departments, non-governmental organisations as well as Office Bearers of Indian Council for Child Welfare (ICCW). 
These young brave hearts will be given a medal, certificate and cash to honour them.
So here is a list of the young brave hearts who will receive award on 24 January 2016  
1) Gaurav Kawduji Sahastrabuddhe 
The coveted Bharat Award, the highest of the National Bravery awards has been conferred on 15 year old Late Master Gaurav Kawduji Sahastrabuddhe of Maharashtra who sacrificed his life while saving his four friends.  
His parents will receive his award on his behalf. 
2) Shivansh Singh
The parents of 13-year-old Shivansh Singh will also receive the award on his behalf. He will be awarded posthumously for sacrificing his life in a valiant effort to save his friend from drowning in Saryu River.
3) Km. Shivampet Ruchitha
The prestigious Geeta Chopra Award has been conferred on 8 year old Km. Shivampet Ruchitha of Telangana who displayed exemplary valour in saving two precious lives when a train hit her school bus. 
4) Arjun Singh  
This year a 16-year-old Arjun Singh will be awarded with Sanjay Chopra Award for displaying outstanding bravery in fighting a tiger to save his mother.
5) Ramdinthara 
15 year old Ramdinthara of Mizoram will be given the Bapu Gaidhani Award. 
He will be awarded for saving two people from electrocution.
6) Rakeshbhai Shanabhai Patel 
Master Rakeshbhai Shanabhai Patel (13 years) of Gujarat will be given bravery awarded for saving a boy who accidentally fell into a deep well. 
7) Aromal
12 year old Aromal saved two ladies from drowning. He hails from Kerala and has been given the Bapu Gaidhani Award. He will also receive the bravery award this year.
8) Kashish Dhanani
10-year-old Kashish Dhanani rushed to protect his 15-month-old sister Kanchi from a furious German shepherd dog bravely.
He will be awarded for his courageous feat.
9) Maurice Yengkhom
Master Maurice Yengkhom from Manipur has been chosen for a bravery award for showing exemplary courage in saving the life of his cousin.
10) Chongtham Kuber Meitei from Manipur
Chongtham Kuber Meitei, an eight-year-old girl from Nagaland will receive a national bravery award for rescuing her grandmother from drowning from a river at Chudi village in Wokha district.
11) Angelica Tynsong 
13 year old Angelica Tynsong of Meghalaya will bag an award for saving her sibling when her house was gutted in fire.
12) Sai Krishna Akhil Kilambi 
The 15year-old Sai Krishna has been chosen for saving his mother from electrocution.
Sai Krishna managed to turn off electricity supply in his house in Agapura in the city when his mother Prasuna, came in contact with a live electric wire while washing the floor of the house. 
He ensured that he did not step into the water as he turned off the mains supply in the house resulting in his mother's life being saved.
13) Joena Chakbraborty
The phone of a 10 year old Joena Chakraborty's  father was snatched by two men on a busy Paharganj Road in 2014.
She ran after the snatchers, held on to the leg of one of the men and took the phone back without caring that the snatcher had a knife.
Joena is one of the winners of this year's National Bravery Award.
14) Sarwanand Saha 
This 13 year old hails from Kerala and has been selected for National Bravery Award-2015. 
15)Dishant Mehndiratta
Dishant Mehndiratta, a 13-year-old boy, who saved his mother from a robber, has been selected for National Bravery Award-2015. 
16) Beedhovan
Beedhovan Terry of Pallithura here has been selected for the National Bravery Award 2015.
Beedhovan, a class 10 student had come to the rescue of his friend Joel who had received an electric shock from an 11-kV line.
17) Nithin Philip Mathew
Nithin Philip Mathew of Manipuzha in Kottayam  will get the award for averting a major tragedy when he broke open the door of an empty house and threw out a gas cylinder that was up in flames. 
18) Abhijit KV
Abhijith K.V. a 16 year old boy of Taliparambu in Kannur district will get the the award for rescuing his friend from a temple pond. 
19)Anandu Dillep
Anandu Dileep and his friend were on their way to tuition, when while crossing a bridge, his friend slipped and fell into the 10-feet-deep canal. Anandu Dileep jumped into the water and managed to rescue his drowning friend.
20)Muhammad Shamnad 
Mohammad Shamnad, rescued one-and-half-year-old Riya Fathima who fell into a pond. 
21) Mohit Mahdenrda Dalvi
Mohit saved a girl named Krishna from drowning in a pond because she didn"t know swimming. Krishna was visiting her uncle in Mumbai and went to the pond for bath and did not realise that it was very deep.
22) Nilesh Revaram Bhil
12-year-old brave heart Nilesh who saved the life of a drowning boy by jumping into 15 feet deep water, is one of the proud recipients of the  National Bravery Award
23) Vaibhav Ramesh Ghangare 
Vaibhav Ramesh Ghangare of Selu tehsil of Wardha district.He will also receive award this award for his brave acts.
24) Abinash Mishra
Abinash Mishra from Odisha has been selected for the Indian Council for Child Welfares' National Bravery Award, 2015. Abinash was selected for the award for showing exemplary courage in rescuing a minor boy Bidhubhusan from Kushabhdra river 
25) Bhimsen 
12 year old Bhimsen from Uttar Pradesh will be getting the National bravery award from Prime Minister Narendra Modi on the eve of Republic Day.
Bhimsen (Sonu) will be awarded for his courage shown on November 16, when a boat capsized in Saryu river, drowning six people. At that time Sonu saved 14 people from drowning.
 
In 1987-88 ICCW instituted the Bharat Award for an exceptionally outstanding, meritorious and gallant deed. The other special awards include the Geeta Chopra and Sanjay Chopra awards (instituted by ICCW in 1978) and the Bapu Gaidhani Awards (instituted in 1988-89). 
The Bharat Award winner gets Rs 50,000, the Geeta Chopra Award winner Rs 40,000, Sanjay Chopra Award Rs 29,000 followed by three Bapu Gaidhani awardees who get Rs 24,000 each. All other bravery award winners get Rs 20,000 each.

"The awardees will be granted financial assistance until they complete their schooling. Some state governments also provide financial assistance to them. In addition, ICCW provides assistance under its Indira Gandhi Scholarship Scheme to those undertaking professional courses such as engineering and medicine," said Gita Siddhartha, President, ICCW.
It was in 1957 that two children-a boy and a girl were first rewarded for their presence of mind and courage.
Since the inception of the scheme then, the ICCW has given the awards, which carries a citation and cash, to 920 children-- 656 boys and 264 girls.