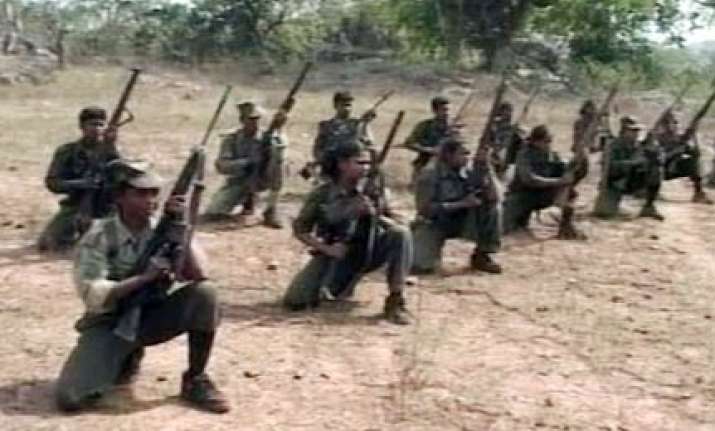 Raipur, Nov 23: About 20 Naxals were today killed in a fierce encounter with CRPF and state police personnel in Chhattisgarh's Dantewada district.
In another incident, two CRPF jawans were killed in a landmine blast triggered by the Naxals in Bijapur district.
CRPF Inspector General Pankaj Kumar Sinh said a joint team of CRPF jawans and state police deployed in Jagargunda area of Dantewada had gone for area domination exercise when about 200 Naxals started firing at them near Aasrampura village.
The security forces returned the fire after which the Naxals fled. Nine deadbodies of Naxals in 'green uniforms' have been recovered by the security forces.
The IG said the police also saw a pool of blood at the spot and there were certain marks which indicated that some bodies were dragged from there.
He said though bodies of only nine Naxals were found, possibly 20 Naxals have been killed in the firing.
A team of the CRPF's 111 battalion accompanied by two special police officers (SPOs) and four state policemen made the first contact with Maoists at 7 AM and subsequently encircled the Maoists in the dense jungles of Jagargunda.
The security personnel also recovered nine weapons and explosives from the site and a search operation has been launched in adjoining areas, the officer said.
Dantewada has been a Naxal hotbed and security forces have been trying to conduct successful operations here after 75 CRPF personnel and a state policeman were killed in a deadly ambush by the Maoists in April.
The second incident occurred near Murtanda village, 280 kms from the  state capital, when a bullet-proof vehicle was on its way back from Awapally after ferrying jawans of Timapur-based 168 battalion of CRPF, according to Additional SP BPS Rajbhanu. PTI