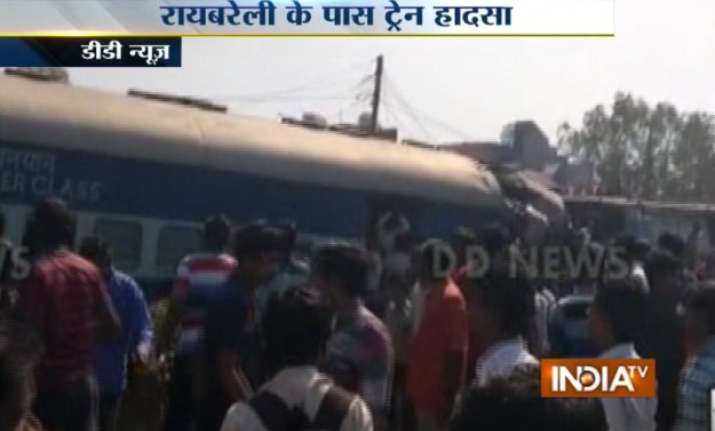 Rae Bareili (UP): At least 31 persons were killed and around 150 others injured when the engine and two coaches of the Dehradun-Varanasi Janta Express derailed near Bachrawan Railway Station in Rae Bareli district on Friday.
The Dehradun-Varanasi Express was to stop at Bachrawan station at around 9.10 AM but the train did not stop and entered the sand hump causing derailment of its engine and four coaches which resulted in death of several passengers and injuries to many, according to Railway Ministry spokesperson.
The accident occurred around 9.30 AM near Bachhrawan Railway station, about 50 km from state capital, Lucknow.
Railways have ordered an inquiry and announced a compensation of Rs 2 lakh for the next of kin of those killed in the accident. While Rs 50,000 will be given to those injured seriously, Rs 20,000 will be given to people with minor injuries.
Expressing grief over the incident, Chief Minister Akhilesh Yadav also announced a compensation of Rs two lakhs to the kin of those killed and Rs 50 thousand for the injured.
Yadav said that officers have been directed to provide all the possible help to the injured Railway Minister Suresh Prabhu has instructed Chairman Railway Board A K Mittal and Member Traffic Ajay Shukla to rush to the spot.
As soon as the news of the accident spread, people from nearby villages rushed to the spot to help in rescue and relief operations.
The villagers helped in extricating passengers trapped in the mangled coaches of the train.
The spot of the accident presented a devastating sight with one of the bogies reduced to a mangle of steel.
Ambulances carrying teams of doctors were rushed to the accident site to help passengers screaming in pain, eye witnesses said, adding gas cutters were being arranged to cut open the crushed compartments to pull out passengers.
Train movement on the Lucknow-Varanasi section of the Northern Railway has been disrupted due to the accident.
Rescue teams from Lucknow and Rae Bareli have rushed to the spot and cranes have been deployed to lift the bogies.
Arrangements have been made to treat the injured passengers.
"50 beds are ready and around 23 patients are being treated here. 15 doctors, 30 nurses and paramedics are on the job. Those with minor injuries will be shifted to RML, Balrampur and Civil Hospital so that serious patients can be admitted to KGMC", District Magistrate, Lucknow, Rajshekhar said.
He said 15 ambulances are being plied to bring the injured to various hospitals while 15 buses are being plied by roadways to take passengers from Bachrawa station to their destination.
Liason Officer/doctors have been deployed at each hospital to coordinate better.
"We are in constant touch with the district administration Rae Bareli and railways authorities to provide best possible assistance required", the DM said.
Chief Medical Officer, Lucknow Dr SNS Yadav said 24 medical teams with doctors and paramedical staff have been sent to the accident site.
"More than 150 beds have been reserved in Lucknow and the medical teams are ready to treat those injured in the accident," he said.
"The CMO said that one paramedic in each hospital has been deputed to guide the injured," Yadav said.