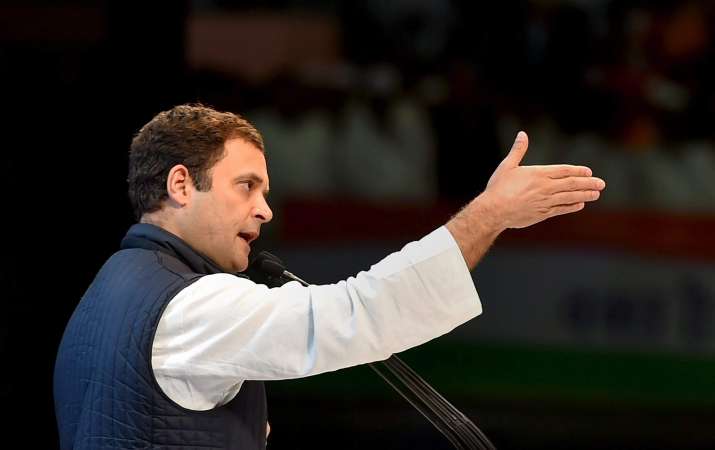 Congress President Rahul Gandhi on Friday questioned Prime Minister Narendra Modi over his silence on the Kathua and Unnao rape cases, saying it was "unacceptable" and India was waiting for him to speak up. 
The Congress chief's comments come a day after he led a midnight march to India Gate to protest the Kathua and Unnao minor rape cases and said it was time for Modi to walk the talk on 'beti bachao' (save the girl child). 
Taking to Twitter, the Congress President posed two questions before PM Modi and dared him to answer those.
"Mr Prime Minister, your silence is unacceptable. 1. What do YOU think about the growing violence against women & children? 2. Why are accused rapists and murderers protected by the state? India is waiting," the Gandhi scion tweeted.
Mr Prime Minister, your silence is unacceptable.

1. What do YOU think about the growing violence against women & children?

2. Why are accused rapists and murderers protected by the state?

India is waiting.#SpeakUp

— Rahul Gandhi (@RahulGandhi) April 13, 2018
The rape cases involving gross brutality with two females at the hands of certain culprits, has taken the country by a storm. With massive outrage across sectors and party lines, there is a growing demand that the Prime Minister should speak up on the entire episode.
 
Earlier on Thursday, Congress spokesperson Kapil Sibal alleged that Modi was "not serious" about rising crime against women in the country and cited National Crime Records Bureau's numbers to substantiate his charge that atrocities against women, including rapes, were "highest" in BJP-ruled states of Maharashtra, Uttar Pradesh and Madhya Pradesh. 
Former Jammu and Kashmir chief minister Omar Abdullah also asked Prime Minister Narendra Modi to break his silence over the Kathua rape case.
"Hon PM sir, there isn't a day when we don't hear you speak about things that are important to you yet there are times when you are completely silent about things that are important to others," he tweeted. 
Abdullah requested the prime minister not to let the girl be "someone you choose to remain silent about". 
The rape and killing of the girl, who belonged to the nomadic Bakerwal Muslim community, has become a national issue. The gory details of the heinous crime surfaced following filing of charges. 
The girl had disappeared from a spot near her house close to Rasana village in Jammu and Kashmir's Kathua on January 10. 
A week later, her body was found in the same area. 
A Special Investigation Team, formed to probe the incident, has arrested eight people, including two special police officers (SPOs) and a head constable, who was charged with destroying evidence.
Meanwhile, in the Unnao rape case, Allahabad High Court on Friday directed the CBI to arrest accused BJP MLA Kuldeep Singh Sengar.
The victim had alleged that on June 4, 2017, she was raped by the MLA of Bangarmau in Unnao district at his residence, when she had gone to meet him with a relative, seeking a job. 
In February, the girl's family had moved the court, seeking to include the MLA's name in the case. 
After the filing of the case, the victim's father was booked by the police under the Arms Act on April 3 and put in jail on April 5. 
Frustrated with the alleged police inaction on her complaint and coercion from influential people, the victim had attempted self-immolation in front of Uttar Pradesh Chief Minister Yogi Aditynath's residence on April 8. 
The next day, her father had died in jail with the post-mortem report suggesting serious injuries on his body, triggering a massive political row over women's safety in Uttar Pradesh. 
The CBI sleuths swooped down at Sengar's residence in Lucknow in the early hours today and took the four-time MLA to its office for questioning.