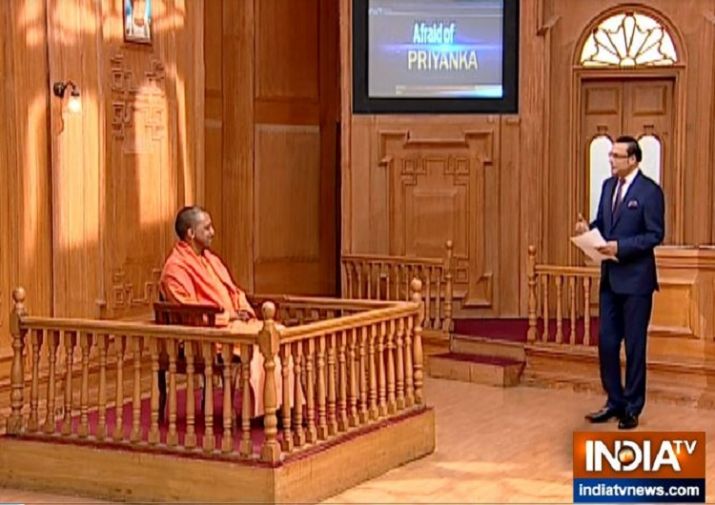 Uttar Pradesh Chief Minister Yogi Adityanath attacked the Congress party for their 'dynastic politics'. Talking to India TV's Editor-in-Chief Rajat Sharma in Aap ki Adalat, Adityanath said that Congress has again proved that for them, the family is the party. "They cannot look beyond the family," he said on Priyanka Gandhi Vadra's entry into active politics. 
On Congress president Rahul Gandhi's 'chowkidar chor hai' remark, the UP CM said that Rahul Gandhi seems to lack understanding of ground realities 'when he hurls accusations on PM Modi'. 
Also read | Yogi Adityanath in Aap Ki Adalat: 'Give us Ayodhya Ram Mandir case, we'll solve it in 24 hours' 
"During UPA, they siphoned money on ground, on water, in air, in space and from deep under the earth. Those who are pointing fingers at Modi Ji, have corruption in their family history and DNA. They want to divert people's attention from development," he alleged, adding that he would like to compete against the Congress chief in Gorakhpur.
"The ill effects of mischievous policies of Congress is now evident as the banks are under huge debts. Congress provided a freeway to people like Nirav Modi, Vijay Mallya," the UP CM said. 
The show 'Aap ki Adalat' is broadcast every Saturday 10 pm and is re-telecast on Sunday 10 am. 
Also read | Yogi Adityanath in Aap Ki Adalat: Rahul Gandhi proves Nehru wrong by visiting temples
Watch video: 
Watch full video