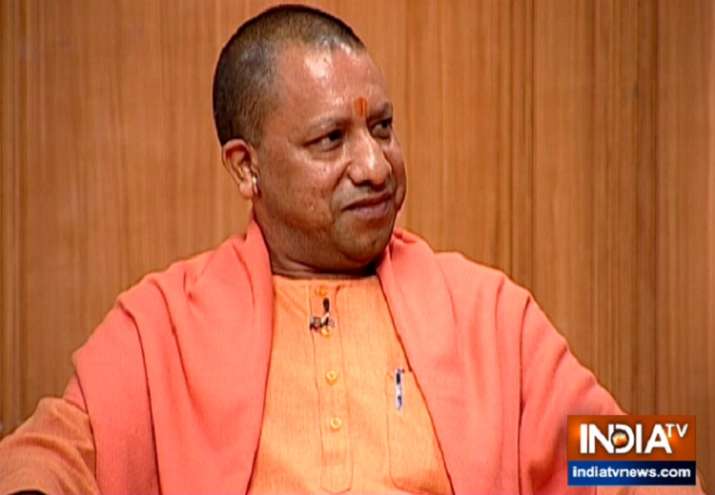 Taking an aggressive stance, Uttar Pradesh Chief Minister Yogi Adityanath has said that the "patience of people on Ram temple is fast running out" and "if the Supreme Court finds itself unable to give an early verdict on Ayodhya dispute, it should hand it over to us. We will resolve the Ram Janmabhoomi dispute within 24 hours".
For added emphasis, Yogi Adityanath said: "It won't take 25 hours."  
Asked by Rajat Sharma on the Aap Ki Adalat whether he would resolve the dispute through negotiations or by wielding the stick, Yogi smiled and replied: "First let the court hand over the issue to us."
"I will still appeal to the court to dispose of the dispute soon. On September 30, 2010, the Allahabad High Court  division bench gave its verdict not on the issue of division of land, but upheld the view that the Babri structure was built by demolishing a Hindu temple or memorial. The Archaeological Survey of India, on the High Court's orders, carried out excavations and in its report admitted that the Babri structure was built by demolishing a Hindu temple or a memorial. 
"By adding the title dispute unnecessarily, the Ayodhya dispute is being prolonged. We appeal to the Supreme Court to give us justice at the earliest, to the satisfaction of millions of people, so that it can become a symbol of people's faith, but if there is unnecessary delay, institutions may lose people's trust. 
WATCH VIDEO:
"The unnecessary delay in verdict on Ram Janmabhoomi issue, is causing crisis so far as people's patience and trust are concerned. I want to say that the court should give its verdict soon, and if it is unable to do so, it should hand over the issue to us. We will resolve the Ram Janmabhoomi dispute within 24 hours. We won't take 25 hours."
Asked why the Centre is unable to bring ordinance on Ayodhya like the one it brought on Triple Talaq, the UP chief minister replied: "The matter is sub judice in Supreme Court. Parliament cannot discuss matters that are sub judice. We are leaving it to the court. Had the court given justice based on the 1994 affidavit filed by the then central government, a good message could have gone to the country. It would have been a nice example. But this unnecessary delay is causing a situation where people's patience is fast running out."
Asked by Rajat Sharma whether the hurry was because of the forthcoming elections, Yogi Adityanath replied: " Question is not of gain or loss in elections. The important question is that it relates to the faith of our countrymen. 
"This fight is between 'aastha' (faith) and 'anaastha' (lack of faith). Our faith connects us with Lord Rama, and the 'lack of faith' is divisive, destructive, alien (videshi) and belongs to other religions (vidharmi). Our faith never lost the battle even in the most trying circumstance, and will not lose now too. A concrete solution to Ram Janmabhoomi dispute will be found and a grand temple will be built in Ayodhya."
When Rajat Sharma pointed out that Congress leaders were promising to build the temple if they came to power, Yogi replied: "Congress is at the root of this problem. Who is their leader who, alongwith Syed Shuja in London, is questioning our electoral system? Who is their leader who told the SC that the Ayodhya issue should be heard after the 2019 elections? Congress does not want the Ayodhya dispute to be resolved. If Ayodhya dispute is resolved, Triple Talaq ban is implemented, politics of appeasement in India will end forever."
On SP-BSP alliance in UP, the chief minister said: "The fight is 70 per cent versus 30 per cent. "Even if they take the caste-based fight  to lowest levels, it will be a 70-30 fight. 70 per cent voters are with BJP, while the remaining 30 per cent are with the gathbandhan (alliance). We will take this fight to that level, and we will win more seats than we had won in 2014 and 2017."
WATCH VIDEO:
On the participation of 22 parties at the Kolkata rally organised by Mamata Banerjee, Yogi said: "Alliances are forged by parties when they face a strong government. I am surprised why Mulayam Singh (SP founder) is silent. He was the PM candidate in 2014, does his own party trust him now? Mulayam should speak out now."
On Priyanka Gandhi's entry in politics, Yogi Adityanath said: "Congress has again proved that for them, the family is the party, they cannot look beyond the family."
WATCH VIDEO:
On Congress president Rahul Gandhi's 'chowkidar chor hai' remark, the UP CM said: "During UPA, they siphoned money on ground, on water, in air, in space and from deep under the earth. Those who are pointing fingers at Modi Ji, have corruption in their family history and DNA. They want to divert people's attention from development."
WATCH VIDEO:
On Rahul Gandhi visiting temples and flaunting his 'janeu' (sacred thread), Yogi Adityanath said: "Pandit Nehru's fourth generation Rahul once used to say, he was an 'Accidental Hindu'. Now he is a 'Janeudhari Hindu'. This is a victory for our ideology. Rahul has now realised that if he has to live in Hindustan, he will have to show his 'janeu' and 'tilak' in public. To me, Rahul has proved that Nehru was wrong."
Watch full video