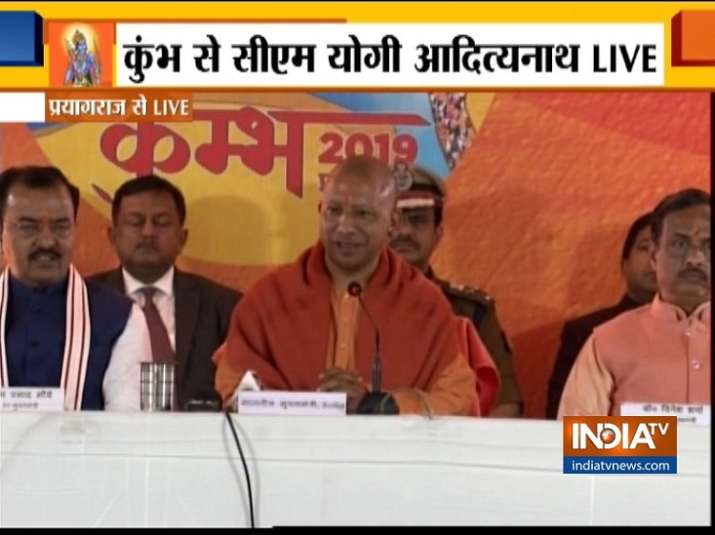 Uttar Pradesh Chief Minister Yogi Adityanath arrived in Prayagraj on Tuesday as the state cabinet held an unprecendented meeting in the city. After the meeting, the entire cabinet, including the chief minister and other ministers will take a holy dip in the waters of Sangam.
In a first, the UP cabinet held a meeting at Allahabad during the ongoing Kumbh mela in the city. The chief minister, along with his council of ministers will also visit Akshayvat and Saraswati Koop.
The chief minister addressed the media following the cabinet meet in Prayagraj.
Here are the highlights from what the chief minister said:
The media presented the Kumbh Mela 2019 in a wonderful manner
I am grateful to Prime Minister Narendra Modi for the arrangements of Kumbh Mela in Prayagraj. Due to his efforts, devotees were able to take holy dip during the festival
The cabinet meeting today dealt with Prayagraj
Ganga Expressway will be constructed to join Prayagraj with Western Uttar Pradesh, which will be 600-km-long, 6-lane expressway
Work will be undertaken to improve various religious spots in Prayagraj
296-km-long Bundelkhand Expressway will be constructed for Rs. 8,864 cr for the development of Bundelkhand
Facilities like that of AIIMS will be provided to doctors of SGPGI
State GST on movie 'Uri – The Surgical Strike' will be removed
Watch Full Video