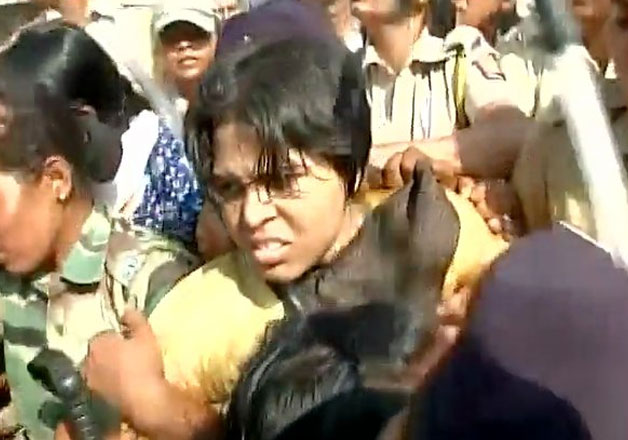 Pune: Bhumata brigade activists led by Trupti Desai who were all set to march to Shani Shinganapur Temple, have been taken into police custody after they indulged in a fight with local women. Despite the court orders, they faced heavy outrage from the locals as villagers gheraoed the temple's core area vowing not to allow women at the shrine's sacred platform.
Private security guards also prevented the activists from entering core area of Shani temple in Ahmednagar district.
The entry of women to the sanctum sanctorum of the shrine is prohibited. However, the High Court, in a landmark judgment, declared yesterday that no law prevents women from entering places of worship and there should be no gender discrimination as far as entering one is concerned.
Terming the Bombay HC's order as a 'victory' for them, Desai said that no one can now stop them from entering the shrine. "If anyone stops us today we will file an FIR against them. I don't think anyone will stop us today, court has already given its order. This is a victory for us," she said.
A determined Desai warned that if the women were stopped from going to pray right under the nose of police, she would lodge a complaint against the officials concerned.
"Why is police remaining silent? Was Chief Minister Devendra Fadnavis lying when the assurance was made before the court? He should have issued the necessary orders as submitted to the court, why was it not done? Should we lodge a police complaint even against Fadnavis?" she asked.
Women devotees are not allowed to worship at Shani Shingnapur Temple, dedicated to Lord Shanidev - the personification of planet Saturn. The issue came to forefront when an unknown woman "accidentally" climbed on the open-to-sky sanctum sanctorum and offered prayers in November 2015, kicking of a major controversy.
The PIL challenged the tradition prohibiting the entry of women inside the sanctum sanctorum of the Shani Shingnapur temple in Ahmednagar district of Maharashtra, claiming that barring women is arbitrary, illegal and in violation to the fundamental rights of a citizen that the Constitution bestows.
On January 26, at least 400 women volunteers, mainly hailing from Pune, led by Trupti Desai, president of the Bhumata Brigade, made an unsuccessful attempt to storm the 'chauthara' of the temple, but prohibited by but police stopped the marchers at Supa village, 70 kms from the temple.
In the meantime, history was created in January when Anita Shetye was unanimously elected to head the temple Trust, and another woman Vaishali Lande was appointed a trustee.