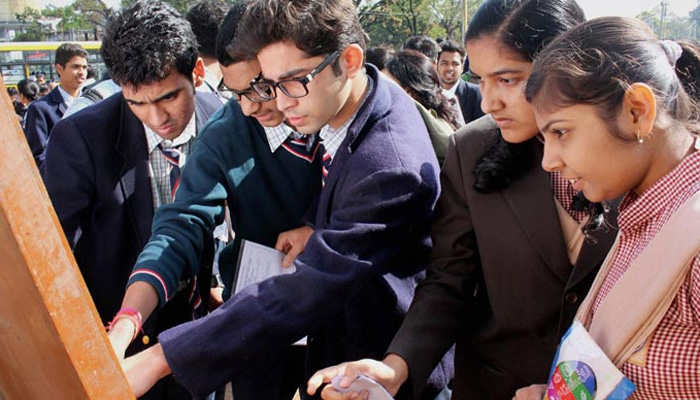 The Ministry of Human Resource Development's last-month decision to scrap marks moderation policy (MMP) under which grace marks are given to students in exams is likely to result in a dip in average marks in this year's Class XII results of Central Board of Secondary Education (CBSE). 
A resolution regarding the same was adopted at a meeting of school boards called by CBSE on April 24. The meeting was also attended by Anil Swarup, secretary (school education) in the HRD ministry.
The move comes after Central board of Secondary Education (CBSE) in December last year has requested MHRD to develop a consensus on completely removing the marks moderation policy which always led to inflation of marks in board exam results. This is return would restrict where up to 15 per cent extra marks are awarded to students for question papers deemed to be difficult.
The ministry's decision to propose tweaking of no-detention policy stipulated under the Right to Education (RTE) Act is likely to result in a drop in marks scored as well as a marginal dip in the pass percentage. 
This will eventually result in a dip in the cut-off percentage for admission in Delhi University and colleges affiliated to it, as compared to previous years. It could also impact the cut-off for admission to undergraduate courses in various other universities this year. 
Moderation is a common practice adopted by most boards to bring uniformity in the examination evaluation process. Marks scored by a student in class X and class XII are tweaked to align marking structure of various examiners to maintain a parity in pass percentage of candidates. 
Moderation has been misused by boards to spike results, this forces universities to set a high eligibility bar for applicants.
CBSE as well as the state boards have been inflating marks in the past. It was reported that in 2016, CBSE gave as many as 16 extra marks in the Class XII Maths exam in the all-India set of papers and 15 marks in the Delhi set during the process of 'standardisation'. 
MHRD's decision had an impact on the Punjab School Education Board's Class XII results announced on Saturday. In the absence of MMP, pass percentage remained 62.36 per cent, a drastic fall of 14 per cent compared to previous year's 76.77 per cent. The PSEB Class XII pass percentage was 78.90 per cent in 2013-14 rising to 84.42 per cent in 2014-15.