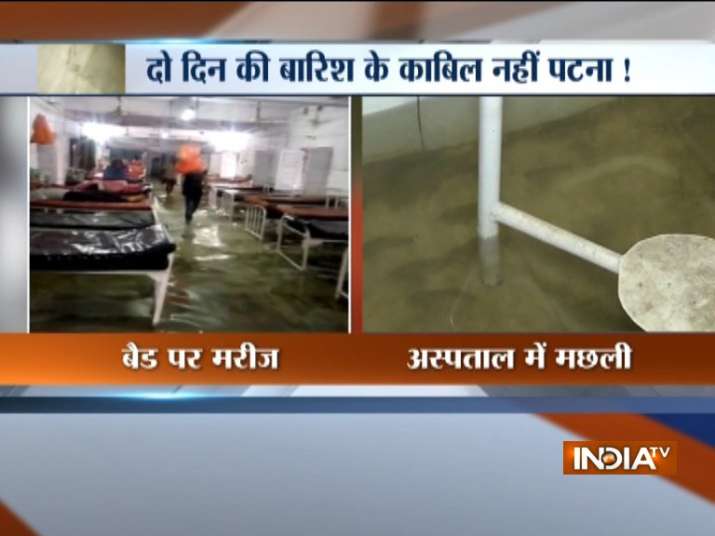 In a  bizarre incident, Patna's premier health institute Nalanda Medical College & Hospital (NMCH) has been taken over by fishes. The waterlogging due to incessant rains has turned the hospital - wards, corridors and even the ICU - into a fish tank. 
The visuals from the hospital show that the facility has been inundated under knee-deep water while the patients continue to be treated under unhygienic and hazardous conditions. 
The hundreds of the fishes can be spotted clearly in the water. Some locals have started capturing the fishes for food or entertainment purposes. 
The rain water has done severe damage to the hospital equipment and medical supplies. 
Patna: Nalanda Medical College Hospital (NMCH) waterlogged following heavy rainfall in the city. #Bihar pic.twitter.com/e8p7c8rsYa

— ANI (@ANI) July 29, 2018
The incessant rainfall has caused problems across the city. Bailley road, which is a lifeline for commuters in the Bihar capital, was closed for commuters as a part of it caved in due to heavy rains.
Bihar Chief Minister Nitish Kumar also visited the site of the incident to take stock of the situation. Speaking to mediapersons, he said that a thorough probe would be conducted and those found guilt would not be spared.
Meanwhile, the Indian Meteorological Department on Sunday said that heavy rain will continue to reel parts of Bihar, Jharkhand and Uttar Pradesh. The weather department also forecast more rains in Assam, Meghalaya, Uttarakhand, Madhya Pradesh, Jharkhand, West Bengal, Sikkim, Arunachal Pradesh, Nagaland, Manipur, Mizoram and Tripura.
Watch full video: