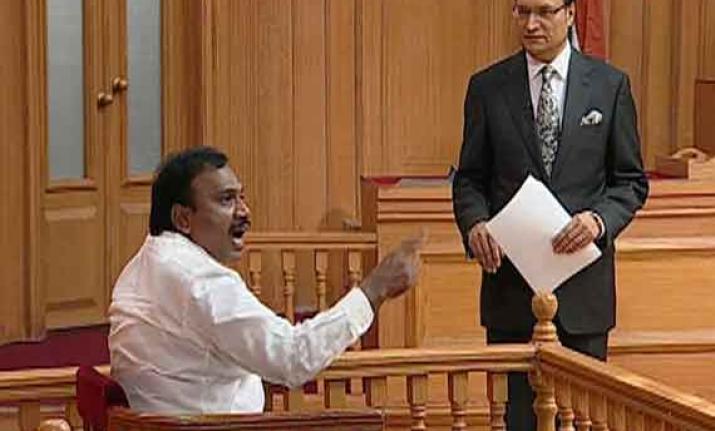 After a marathon trial of seven years, a special CBI court on Thursday pronounced its verdict in what was described as one of the nation's biggest telecom scandal – the 2G scam – acquitting former telecom minister A Raja, DMK supremo Karunanidhi's daughter Kanimozhi and other accused of all charges. 
In a damning indictment of the probe agencies pointing to a loss to the tune of thousands of crores to the exchequer, special CBI court judge OP Saini said that the prosecution had "miserably failed" to prove any charge against any of the accused.
"There is no evidence on the record produced before the Court indicating any criminality in the acts allegedly committed by the accused persons relating to fixation of cut­off date, manipulation of first­come first­served policy, allocation of spectrum to dual technology applicants, ignoring ineligibility of STPL and Unitech group companies, non­revision of entry fee and transfer of Rs. 200 crore to Kalaignar TV (P) Limited as illegal gratification," judge Saini noted in his voluminous 1500-page document.
Hailing the verdict in the case, A Raja said today, "I will read the judgement and tell. You see everybody is happy."
Three years ago, while appearing on India TV's special show Aap Ki Adalat, Raja had defended himself saying that he was ready to serve life imprisonment if a single rupee or dollar was found in any offshore account in his name. 
The former Telecom Minister, replying to a volley of questions from Rajat Sharma, claimed that he did not keep the then Prime Minister Manmohan Singh in the dark about the 2G spectrum allocation and everything was done in accordance with the National Telecom Policy and Cabinet guidelines. 
"The CAG", he said, "failed to differentiate between 2G and 3G. 2G is meant for voice and 3G is meant for data transfer. You can't compare PDS rice with Basmati rice. The rates will definitely be different".
Raja claimed that it was he who lowered the telecom tariff to 50 paise a call and raise rural teledensity in India from 8 per cent to 45 per cent, adding that he was a victim of some telecom operators, whose business was going to be affected by 2G spectrum allocation.
Watch A Raja answering a volley of question from India TV Editor-in-Chief Rajat Sharma three years ago when he had appeared on Aap Ki Adalat.