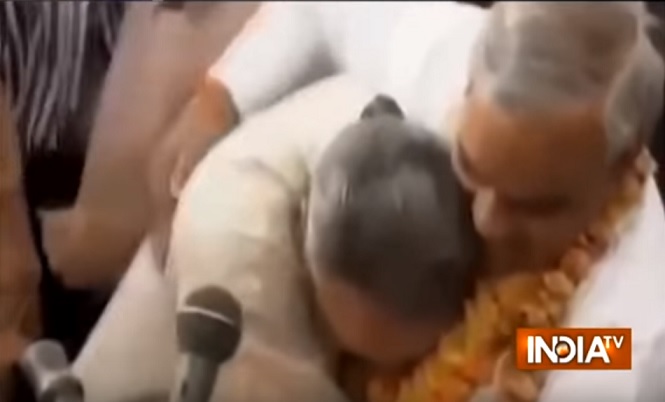 In a rare video that has emerged after the demise of Atal Bihari Vajpayee, Prime Minister Narendra Modi is seen running like a child into the "father figure" at the party headquarters during his early days.
Modi can be seen emerging from the background and giving a warm hug to Vajpayee in the premises of the party office. Vajpayee then pats on Modi's back and smiles.
Describing Atal Bihari Vajpayee as a "father figure", Prime Minister Narendra Modi had said yesterday that the void left by the former prime minister's death could never be filled.
In a brief televised address, Modi said through his leadership and struggles, Vajpayee had strengthened the Jan Sangh and the Bharatiya Janata Party (BJP). 
"He took these parties to every part of India and spread the policies and philosophy of the BJP to the people," he added.
Modi said he had lost a "father figure" today.
"Atalji taught me valuable aspects about 'sangathan' (organisation) and 'shaasan' (administration)," he added.
The prime minister said whenever he met Vajpayee, the latter hugged him with affection.
"We have lost our inspiration. We have lost an 'Atal Ratna'. The personality of Atalji and the sadness due to his demise cannot be described in words. The void cannot be filled ever," he added.
Former Prime Minister Atal Bihari Vajpayee, who led the nation through several crises while holding together a tenuous coalition with his inclusive politics and superlative oratory, passed away at the age of 93, yesterday. ​​Vajpayee, a bachelor, is survived by his adopted daughter Namita Kaul Bhattacharya. He will be cremated today in New Delhi. 
Vajpayee's death was announced by the All India Institute of Medical Sciences (AIIMS) hospital where he was admitted June 11 with a variety of ailments.
"It is with profound grief that we inform about the sad demise of Former Prime Minister of India, Shri Atal Bihari Vajpayee, at 05:05 PM," the AIIMS said in a statement.
It said his condition was stable for the last nine weeks, but "unfortunately, his condition deteriorated over the last 36 hours and he was put on life support systems."