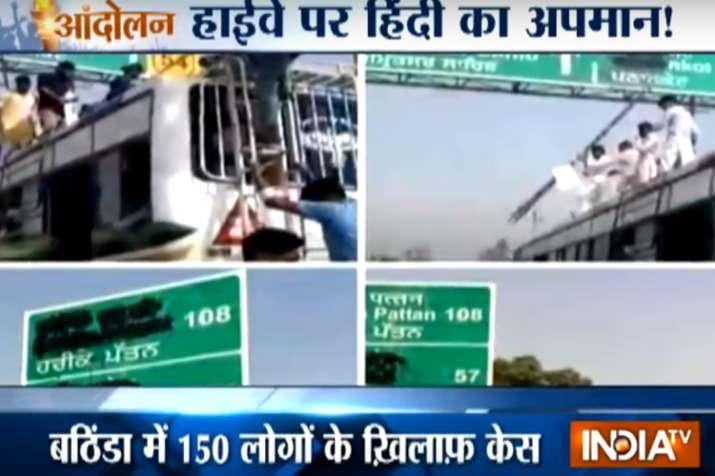 Demanding  that Punjabi should get precedence over all other languages on signboards, radical Sikh groups have undertaken a massive drive to blacken Hindi and English words on signboards along the Bathinda-Faridkot National Highway. 
Activists of Dal Khalsa, SAD (Amritsar), BKU (Krantikari) and Malwa Youth Federation and other organisations have smudged signboards written in Hindi and English leaving names of places only in Punjabi. 
For the past month or so, activists of these organisations have been objecting to names of places in Hindi and English being put on top  on signboards relegating Punjabi  at the bottom. They are demanding that names in Punjabi should be at the top on these signboards. 
Noticeably, the activists have blackened only those signboards installed along the National Highway – indicating that their target is to damage the property of the central government, and create difficulties for people of other states passing through the highway. 
150 people involved in blackening the signboards, especially in Bathinda, have been booked on the charges of damaging the government property. However, the police have failed in ensuring that such incidents are not repeated.
Following the protests, Punjab's Public Work Department (PWD) on Sunday confirmed that works towards ensuring the primacy of Punjabi language over Hindi and English on signboards on national highways in the state will begin from October 23 and will be completed in the next two weeks.