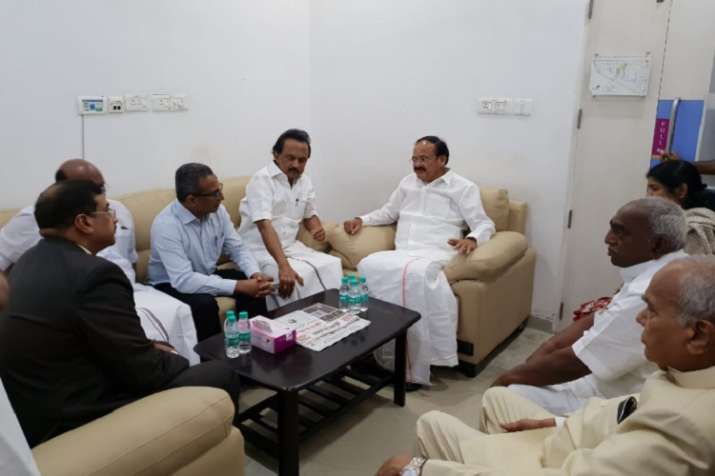 Vice President M Venkaiah Naidu on Sunday met DMK President M  Karunanidhi at the Kauvery hospital in Chennai and enquired about his health.
"Visited Kauvery hospital and met former chief minister Thiru Kalaignar Karunanidhu. Met his family members and doctors and enquired about his health. Doctors said he is stable. Wish him a speedy recovery", tweeted Naidu, few minutes after his visit.
Naidu was accompanied by Tamil Nadu Governor Banwarilal Purohit, Union Minister Pon Radhakrishnan and state fisheries minister D Jayakumar. Naidu also met Karunanidhi's son and DMK leader MK Stalin at the hospital.
Visited Kaveri Hospital and met former Chief Minister Thiru Kalaignar Karunanidhi. Met his family members and doctors and enquired about his health. Doctors said he is stable. Wish him a speedy recovery. @kalaignar89 pic.twitter.com/Q7ay71txzT

— VicePresidentOfIndia (@VPSecretariat) July 29, 2018
On Saturday night, the hospital said Karunanidhi's condition was stable with active medical support.
The 94-year-old veteran politician was admitted into the intensive care unit at 1.30 a.m. on Saturday after his blood pressure dropped.
Following treatment, Karunanidhi's blood pressure has stabilised.
DMK spokesperson T.K.S. Elangovan on Saturday said that Karunanidhi will be in the hospital for two more days.
Meanwhile, Tamil Nadu Chief Minister K. Palaniswami on Saturday said the government is ready to render medical assistance to the ailing DMK President M. Karunanidhi.
Speaking to reporters the Chief Minister said the state government is ready to provide medical assistance to the five-time former Chief Minister and now a legislator if requested by his family.
For the past two years, the DMK president has not been making any public appearance owing to his ill health, but he still holds the top post in the Dravidian party. Karunanidhi has not been keeping well since October 2016. A few days ago, he underwent a procedure to change his tracheostomy tube to help him in breathing.
Karunanidhi, who is addressed as 'Kalaignar' (artiste) by his supporters, followers and some politicians, entered his 50th year as party chief on Friday July 27.
A stream of political leaders, including PM Modi, Bengal CM Mamata Banerjee and others wished Karunanidhi a speedy recovery. President Ram Nath Kovind, PM Modi, Congress president spoke to Stalin and Karunanidhi's daughter Kanimozhi to enquire about the veteran Tamil Nadu politician's health and offered all help.