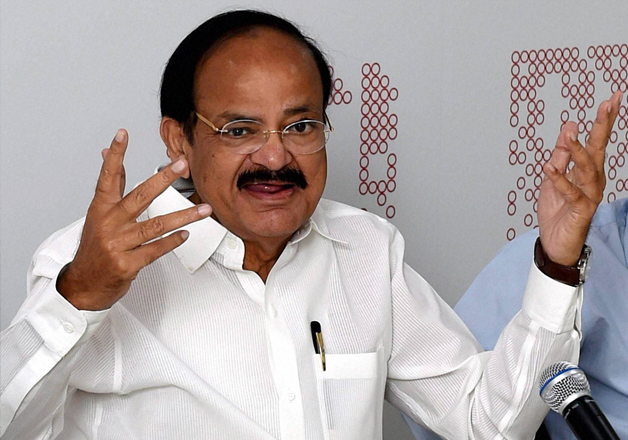 Vice President Venkaiah Naidu on Monday rejected the impeachment notice against Chief Justice of India (CJI) Dipak Misra, which was moved by the Congress-led Opposition on Friday, citing lack of substantial merit in it. 
The rejection of the notice comes a day after he held the consultations with such experts to determine the maintainability of the motion.
Naidu said in an order today that he had detailed personal conversation on all the aspects arising from the notice and had considered each of the allegations made in it individually as well as collectively. 
"Based on all this, I have come to the conclusion that this motion does not deserve to be admitted...On careful analysis and reflection, I find there is virtually no concrete verifiable imputation.
"We cannot allow any of our pillars of governance to be weakened by any thought, word or action," he said.
The Rajya Sabha chairman said that after having perused annexures to the motion, detailed consultations and studied opinions of constitutional experts, he was "satisfied that admission of this Notice of Motion is neither desirable nor proper". 
"In passing, I am constrained to observe that in this matter, the well established parliamentary customs and conventions as have been delineated in para 2.2 of the Handbook for Members of Rajya Sabha have been disregarded," Naidu said. 
"I have considered the material contained in the Notice of Motion and reflected upon the inputs received in my interaction with legal luminaries and constitutional experts, I am of the firm opinion that the Notice of Motion does not deserve to be admitted. I refuse to admit the Notice of Motion," he said. 
Here are the LIVE updates:
12:04 pm: Kapil Sibal, Vivek Tankha, KTS Tulsi to hold special press conference at 3 pm at AICC headquarters.
11:58 am: While reviewing the notice, Rajya Sabha officials had mentioned that making public the contents of a notice before it is admitted by the Chair, is in violation of parliamentary rules, informed sources said. 
According to the provisions in the handbook for Rajya Sabha members, no advance publicity should be given to any notice to be taken up in the House till it is admitted by the Chairman.
11:46 am: You know you don't have any ground, you know you can't impeach him. In spite of knowing all that still you go on & plunge in this ill-advised move. This can't be considered as a wise act: Justice (Retd) RS Sodhi 
11:35 am: RS Chairman can't decide on merits in absence of quasi judicial or administrative power (M.Krishna Swami's case). If all charges were to be proved before inquiry as RS Chairman suggests, Constitution & Judges (Inquiry) Act will have no relevance. Don't muzzle Constitution: Randeep Surjewala
11:34 am: Within hours of 64 MP's submitting the impeachment motion, Leader of Rajya Sabha(FM) had expressed naked prejudice by calling it a 'revenge petition' virtually dictating the verdict to Rajya Sabha Chairman on that day. Has 'Revenge Petition' now become 'Rescue Order'?: Randeep Surjewala
11:33 am: Constitutional process of impeachment is set in motion with 50 MP's giving the motion. RS Chairman can't adjudge the motion, for he has no mandate to decide the merits of the motion. This is truly a fight between forces 'Rejecting Democracy' & voices 'Rescuing Democracy', tweets Randeep Surjewala
11:25 am: Congress needs lessons on constitution. They suffer from selective amnesia. The Vice President has taken a conscious decision. Congress has lost its game. They're frustrated because they're not in power: Anantkumar Hegde
11:23 am: Conversations between third parties with dubious credentials, which have been extensively relied upon, cannot themselves constitute any material evidence against the holder of the office CJI, said Naidu in the order. 
11:05 am: Venkaiah Naidu also said that addressing the media after moving the impeachment notice against CJI was not correct, and violated parliamentary dignity. 
11:04 am: 
Delhi: Vice President M Venkaiah Naidu signing the papers of rejection of #ImpeachmentMotion against CJI Dipak Misra. pic.twitter.com/Ptj4AeiaUn

— ANI (@ANI) April 23, 2018
11:03 am: He has decided correctly. He need not have taken two days to make the decision. It should've been considered null and void & thrown out from the beginning. Congress committed suicide by doing this: Subramanian Swamy
11:01 am: Here are the important pointers that Venkaiah Naidu made in his 10-page decision: 1. Charges made on suspicion, assumption; 2. making rosters an internal matter to be resolved by the SC itself; 3. none of the five allegations in notice tenable or admissible; 4. allegations seriously undermine independence of judiciary; 5. case under Article 124(4) not made; 6. no concrete verifiable imputation; 7. opposition notice has no empirical basis; 8. satisfied that notice of motion is neither desirable nor proper
10:53 am: "Expectedly, Mr Naidu rejected impeachment motion. Unexpectedly, he did so within one day of returning from outstation. Hopefully, the alacrity was not intended to render infructuous calls for CJI to stop administrative work," says Congress leader Abhishek Manu Singhvi 
10:50 am: I have applied my mind to all 5 charges made out in Impeachment Motion & examined all annexed documents. All facts as stated in motion don't make out a case which can lead any reasonable mind to conclude that CJI on these facts can be ever held guilty of misbehavior: Vice President
10:33 am: "What!! VP Naidu rejects impeachment motion against CJI signed by 64 RS MPs! On what grounds? He has no power to say that charges are not made out. That's for the inquiry committee of 3 judges. He only has to see if it's signed by 50 MPs & possibly if charges are of misbehaviour," tweets Prashant Bhushan
10:31 am: We don't know on what grounds the Vice President has rejected the motion. The decision is 'unfortunate': NCP's Majeed Menon
10:30 am: The Vice President asserted that there was no concrete reason behind the allegations against the CJI. 
10:25 am: This is a really important matter. We don't know what was the reason for the rejection. Congress and other opposition parties will talk to some legal experts, and take the next step: PL Punia, Congress
10:11 am: Vice President Venkaiah Naidu rejected the impeachment notice citing lack of substantial merit in it.  
10:02 am: Rajya Sabha chiarman Venkaiah Naidu rejects impeachment plea against Chief Justice of India Venkaiah Naidu. 
10:01 am: The Congress was also trying to build up "moral pressure" on the Chief Justice of India in the hope that he would step aside from judicial duty if an impeachment motion was moved against him. 
10:00 am: Officials told PTI news agency that Naidu spoke to former Lok Sabha secretary general Subhash Kashyap, ex-law secretary P K Malhotra and former legislative secretary Sanjay Singh as well about the issue. He also held deliberations with senior officials of the Rajya Sabha Secretariat, they said, adding that Naidu also spoke to former Supreme Court judge B Sudarshan Reddy.
10:00 am: Yesterday, Congress leaders said that the party is considering moving the Supreme Court if the petition is rejected. They said if the Upper House chairman did not find merit in the notice for the impeachment, the decision could call for a judicial review. 
09:58 am: Seven opposition parties, led by the Congress, initiated an unprecedented step last week for the impeachment of CJI Misra by moving a notice levelling several charges against him. 
This is the first time an impeachment of a Chief Justice is being sought to be made in Parliament. The first case of impeachment of a Supreme Court judge, Justice V. Ramaswamy, was voted out in the Lok Sabha in the mid-90s. In two other cases, Justice P.D. Dinakaran of the Sikkim High Court and Justice Soumitra Sen of Calcutta High Court resigned before the impeachment motion could be voted. An impeachment motion has to be passed by both the Houses of Parliament with a special two-thirds majority.
The motion lists five charges of misbehaviour including an alleged conspiracy to pay illegal gratification in a case relating to an educational trust and the manner in which the CJI had dealt with the case by denying permission to the CBI to register an FIR against a judge of the Allahabad High Court when the CBI shared incriminating information.
The second related to the CJI having dealt with the trust case on the administrative side and the third related to alleged antedating of a matter "which is a very serious charge".
The fourth charge related to the CJI having acquired land when he was an advocate by allegedly giving a false affidavit. The allotment of the land was cancelled by an Additional District Magistrate in 1985. The CJI surrendered the land in 2012 after he was elevated to the Supreme Court.
The fifth charge related to alleged abuse of exercise of power by CJI in choosing to send sensitive matters to particular benches by misusing his authority as "Master of the Roster" with the likely intent to influence the outcome.
As per Article 124 (4), "A Judge of the Supreme Court shall not be removed from his office except by an order of the President passed after an address by each House of Parliament supported by a majority of the total membership of that House and by a majority of not less than two-thirds of the members of that House present and voting has been presented to the President in the same session for such removal on the ground of proved misbehaviour or incapacity."