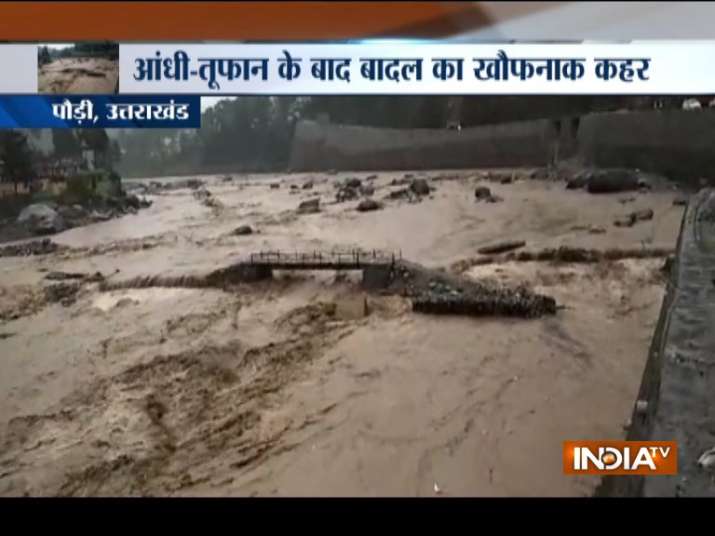 Uttarakhand Cloudburst: Several incidents of cloudbursts were reported from parts of Uttarakhand, including Tehri in Garhwal, Pauri and Uttarkashi. SDRF teams were immediately rushed to the site for assistance in relief and rescue operations. No loss of life or property has been reported so far. However, a 12-year-old girl is reported to be missing while two others were rescued after being washed away in a river.
Reacting on the incidents, Chief Minister Trivendra Singh Rawat said that the cloudburst happened in only one region, which is Pauri. He also stated that the state's administration has been put on alert for prompt assistance throughout. 
पौड़ी जिले के बमरता गांव में बादल फटने से 4 पशुओं के बहने की खबर है। राहत की बात है कि इस घटना में कोई जनहानि नहीं हुई है। पुलिस की टीम घटनास्थल पर पहुंच चुकी है। जिला प्रशासन को घटना पर नजर रखने के निर्देश दिए हैं।

— Trivendra S Rawat (@tsrawatbjp) June 1, 2018
Uttarakhand cloudburst: Warning issued ahead of cloudburst, rain
​The Met Department had earlier issued a warning of heavy rains for three days. Water inundated many areas of the cloudburst-affected regions, wreaking havoc across the state.
Get all updates on Uttarakhand cloudburst, cloudburst in Uttarakhand, Uttarakhand Cloudburst 2018, cloudbursts in Uttarakhand, roads damaged in cloudburst, cloudburst wreaks havoc in Uttarakhand here.
Cloudburst in Uttarakhand: Many areas inundated, arterial ways submerged
The state of Uttarakhand witnessed a sudden change of weather, triggering heavy rainfall in several districts. Subsequently, many roads and arterial ways were submerged under water. According to reports, cloud burst in Betalghat area of ​​Pithoragarh has caused destruction to crops in the area. One of the most-affected area was Tehri's Ghansali where water sneaked out flooding from drains. The effect was such that three children were flown away in a river, out of which two were rescued while a 12-year-old was untraceable. Roads were washed away and electricity supply also took a hit. 
Dehradun witnesses rainfall, temperature dips by 5 degrees
Uttarakhand capital Dehradun too witnessed heavy rainfall, causing road blocks at several locations across the city. Like other regions, here too water overflowed gulped the roads. The effect was also seen in rain-lashed areas Nainital, Pithoragarh and Kumaon.In Nainital's Betalghat, rubble was seen collecting on the roads, blocking the passage for commuters. The administration has alerted responsive teams to act in carrying out swift rescue and relief operations wherever required. 
WATCH FULL VIDEO: Cloudburst in Uttarakhand, roads washed away
Get all updates here on cloud burst, uttarakhand, uttarakhand cloudburst, cloudburst video in uttarakhand, cloudburst video, How do cloudburst occur, What is a cloudburst, causes of cloudburst, causes of cloudburst, cloudburst in india, effects of cloudburst, cloudburst in uttarakhand, uttarakhand cloudburst, sdrf team, rescue operations.