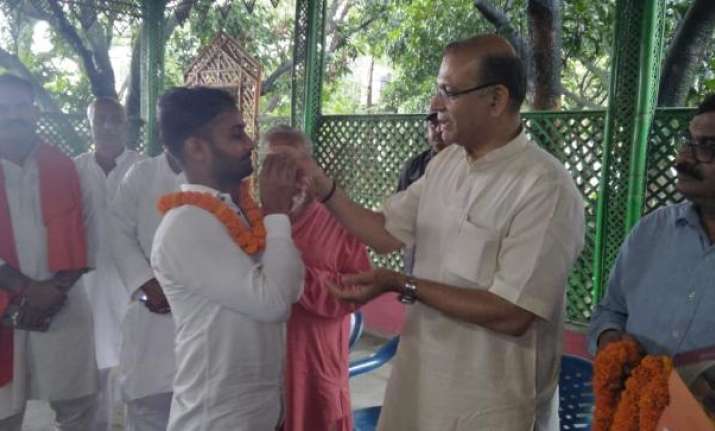 Union Minister Jayant Sinha landed himself in trouble after felicitating eight men convicted for killing a meat trader in  Jharkhand's Ramgarh last year. 
The controversy erupted after photographs surfaced showing the minister welcoming them at his residence. Sinha was also seen garlanding the eight convicts in the Ramgarh lynching case at his residence on the outskirts of Hazaribagh. 
On June 30 last year, a meat trader in Jharkhand was dragged out of his car and beaten to death by a mob that suspected he was carrying beef. Aliduddin Ansari was left to die on a road in Ramgarh, while his car was set on fire. 
In March this year, a fast track court convicted 11 people for lynching. However, last week, Jharkhand High Court suspended the life sentence of eight persons, including a BJP functionary. 
After getting bail, the convicts walked out of the Jai Prakash Narain Central Jail and headed to Sinha's residence.
"This is despicable," Jharkhand's leader of opposition Hemant Soren tweeted yesterday. 
"Your alumnus @jayantsinha felicitating the accused in cow related lynching death in India. Is this what @Harvard stands for?" Mr Soren tweeted about Mr Sinha, the BJP's Lok Sabha member from Hazaribagh. Ramgarh town is also a part of his constituency.
Jayant Sinha clarifies
Meanwhile, Sinha in a series of tweets said that irresponsible statements were being made about his actions since he was "honoring due process of law."
"I unequivocally condemn all acts of violence and reject any type of vigilantism. The rule of law is supreme in our constitutional democracy. Any unlawful acts, particularly those that violate the rights of any citizen, should be punished with the full force of the law," Sinha said in his first tweet. 
"In the Ramgarh case, the Hon'ble Ranchi High Court, which is the first court of appeal, has suspended the sentence of the accused and released them on bail while admitting their case. The case will once again be re-heard," his second tweet read. 
In his third third and fourth tweet, the minister said, "I have repeatedly expressed my misgivings about the Fast-Track Court judgement sentencing each accused to life imprisonment. I am pleased that the Hon'ble High Court will hear the matter as a statutory court of appeal to test the correctness of the Fast-Track Court order."
"I have full faith in our judicial system and the rule of law. Unfortunately, irresponsible statements are being made about my actions when all that I am doing is honoring the due process of law. Those that are innocent will be spared and the guilty will be appropriately punished."