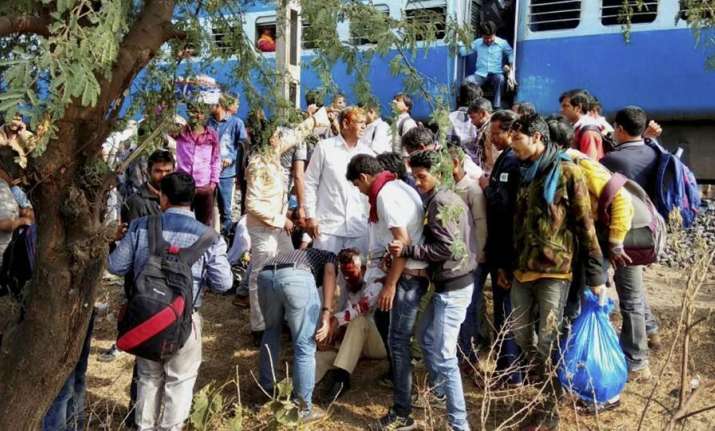 Alleged Indian sympathisers of the Islamic State held by the National Investigation Agency in connection with the Ujjain train blast are learnt to have revealed a sinister plot they attempted but failed prior to the March 7 passenger train blast.
According to a report in The Indian Express, two of the three men arrested from Madhya Pradesh after the explosion have told the NIA that their original target was not this train but the Lucknow-Bhopal Pushpak Express on which they travelled the previous night. 
Atif Muzaffar and Syed Mir Hussain told the NIA that they travelled in the Pushpak Express on March 6 with a bag filled with explosives, but could not plant it because of the "heavy rush" and "alert passengers", the report said. 
The duo, along with one Mohammad Danish, were arrested in Pipariya in Hoshangabad district, while the fourth, Saifullah, was killed in a gunfight with UP ATS in Lucknow. 
The report cited official sources as saying that Atif bought three tickets for the Pushpak Express, but throughout the journey, they couldn't find a suitable spot or the right time to plant the bomb. 
The three got off the train at Bhopal railway station on March 7 morning, where Atif and Danish made a last-minute decision to plant the bomb on the passenger train that was about to leave for Ujjain. 
"After their failure to plant the bomb on the Pushpak Express, they got desperate. They managed to get into the last coach of the Bhopal-Ujjain train that was about to leave the station, left the bag filled with explosives and got off," a source was quoted by The Indian Express as saying. 
During the investigation, the NIA discovered that the four – including Saifullah – met each other in December 2015 and two months later, in February 2016, they decided to form a group in the name of jihad. 
They rented a room in Lucknow where they gave themselves 'code' names – Jiya Abu Ibrahim for Atif; Jafar Abu Ismail for Danish; Ali Abu Makaiel for Saifullah; and, Hamza Abu Waqas for Husain.
For one year, from February 2016 to February 2017, the four travelled across the country, hoping to cross over into Pakistan from Jammu, Kashmir, Punjab and Rajasthan; or into Bangladesh, but found it was not as simple as they had imagined. 
After that, they went to Kozhikode in Kerala to explore ways of "migrating to the Caliphate". While they did not meet with much success, they met several persons who they thought could help them establish contact with the Islamic State, sources said.        
In July 2016, during Ramzan, Atif became the Ameer of the group and the four took the oath of allegiance to the Islamic State.