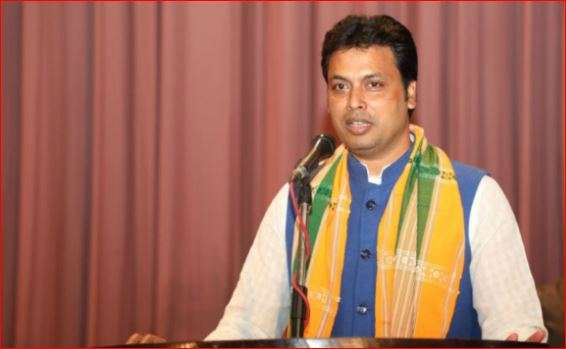 Tripura Chief Minister Biplab Kumar Deb on Tuesday rejected reports of him being summoned to New Delhi by Prime Minister Narendra Modi in wake of a slew of controversial statements made by him recently. While claiming that his New Delhi visit was planned days before, Deb said that PM Modi 'loved him like a son'.
"There is no truth in the (media) reports of Modiji summoning me to Delhi. The (Delhi) trip was long planned. In fact, Modiji loves me like a son," Deb said.
An official of the Chief Minister's Secretariat said Deb left for New Delhi on Tuesday to attend a series of programmes in the national capital.
"From Delhi the Chief Minister will go to Bengaluru to join BJP leaders to campaign for the party ahead of the May 12 Karnataka Assembly elections," the official added.
The Additional Secretary to the Chief Minister, Milind Ramteke, said the Chief Minister would attend a meeting chaired by Modi on Wednesday of a national committee set up to commemorate Mahatma Gandhi's 150th birth anniversary.
"Deb is also likely to meet several central ministers including Prakash Javadekar. He will attend a meeting with External Affairs Minister Sushma Swaraj where all Chief Ministers from the other northeastern states will be present," the official added.
Biplab Deb's numerous controversial remarks
Deb, who took charge of Tripura last month, has made several remarks which have triggered widespread criticism.
Speaking at an event in Agartala on Saturday (April 28), Deb suggested the educated youth of his state to consider opening a paan shop or breed cows rather than running behind government jobs.
Also read: Tripura CM Biplab Deb's latest: 'Open paan shop or breed cows instead of running behind govt jobs'
The Tripura CM said youth should try and become self-employed by starting various projects under the animal resource sector with bank loans, under the Prime Minister's Mudra scheme.
"The youth here runs after political parties for several years to get a govt job and wastes the vital time of their life, had the same youth instead of running after parties set up a paan shop he would have by now had a bank balance of Rs 5 lakhs," said Deb.
Earlier, CM Biplab Deb courted controversy by making a comment on former Miss World Diana Hayden's skin colour. Questioning the rationale behind crowning Diana Hayden "Miss World", Deb had said. He said Aishwarya Rai, who won the Miss World crown in 1994, "represents the Indian women in the true sense".
"I was talking about how the handlooms of the state could be marketed well. If anybody is hurt or feeling defamed, I regret for this... I respect all women as my mother," Deb later said apoligising for his remarks.
A day later, Biplab Deb stoked another controversy suggesting that civil engineers are better suited for civil services as compared to mechanical engineers. 
Watch: Internet was present during Mahabharata period: Tripura CM Biplab Kumar Deb
(With inputs from IANS)