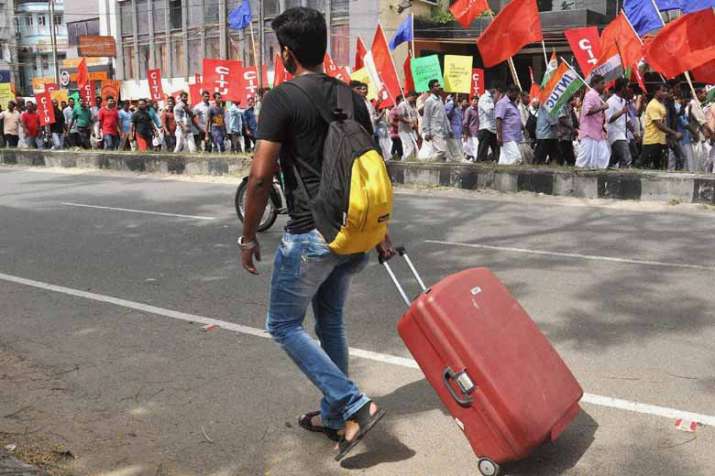 Transport services in many cities could take a hit as more than a million workers in banking, telecom and other sectors will go on strike to press for their demand for better pay and in protest against new labour and investment policies. Several local unions too have voiced their support to the bandh call, meaning essential services could be hit.
The strike, which will also be joined by PSUs, follows what unions have termed as the government's apathy towards their 12-point charter of demands including a monthly minimum wage of Rs 18,000, controlling price rise and assured minimum monthly pension of Rs 3,000. This is besides their objection to government's privatisation targets and foreign investment norms, especially in the defence and insurance sectors.
In an attempt to dissuade workers from the strike, the government said on Wednesday that it will release two-year bonuses for government employees besides increasing the minimum wages for unskilled labourers. However, the unions rejected the government's offer and decided to go ahead with the strike instead.
The government aims to raise Rs. 55,907 crore through privatisation this fiscal year, and shut down some companies. Losses at 77 state-run companies exceeded Rs. 26,780 crore in the last fiscal year.
The strike, claim trade unions, will be bigger as the number of striking workers is expected to swell to as much as 18 crore, way above the 14 crore workers who participated in the strike last year.
"This time strike will be bigger than last year as over 18 crore workers from formal and informal sectors would come on streets to protest against government's indifference to their 12-points charter of demands and unilateral anti-worker labour law amendments," Trade Union Coordination Committee (TUCC) General Secretary S P Tiwari told PTI.
He further said, "Besides ports and civil aviation, the essential services like transport, telecom and banking will be paralysed. The workers will go on strike in hospitals and power plants but the protest will not affect their normal functioning."
Workers in central public sector undertakings like Coal India, GAIL, ONGC, NTPC, OIL, HAL and BHEL will be joining the strike tomorrow.
However, Indian Railways and other central government employees will not participate as the government has already constituted a committee to look into their demand of raising monthly minimum wage from Rs 18,000 to about Rs 26,000 under the 7th Pay Commission.
Tiwari said: "We are not asking for more. We are demanding Rs 18,000 minimum monthly wage which was accepted by the government on the recommendations of 7th Pay Commission."
He was of the view that the demand is reasonable in the backdrop of price rise. Delhi Government has already hiked monthly minimum wage to Rs 14,052, Rs 15,032 and Rs 18,000 for unskilled, semi-skilled and skilled workers respectively.
All India Trade Union Congress (AITUC) said preparations in industrial areas and various sectoral sections of formal and informal economy are all prepared for making this action as "grand protest of working class" against the anti-labour policies of the Centre.
There will be processions in almost all the industrial clusters of Delhi such as Okhla, Kirtri Nagar, Mayapuri area, Wazirpur, Jhilmil-Shadra, Patparganj and Mangolpuri from the morning along with industrial strike, it added.
"At Jantar Mantar there will be gathering of workers and employees from Banks, Insurance, Universities, Postal, Telecom, Defence and Oil Sectors to have procession to Parliament," AITUC added.
AITUC Secretary Amarjeet Kaur told PTI: "There will be chakka jam in 11 states like Andhra Pradesh, Telengana Tamil Nadu, Bihar, Chhattisgarh, Madhya Pradesh and Karnataka."
Meanwhile, the Centre for India Trade Unions (CITU) said Labour Minister Bandaru Dattatreya had on August 31 informed about the NDA government's commitment to fair earning and social security for the workers.
CITU said it considers this a deliberate "misinformation campaign" to create confusion and to "sabotage" the nationwide general strike tomorrow.
It also attacked the RSS-affiliate Bhartiya Mazdoor Sangh (BMS) on accepting the government's "meager" hike in minimum wages.
BMS has decided not to participate in strike. Last year also on September 2, the union has opted out of the strike at the last moment.
Minimum wage announced by the government is not even half of what all central trade unions including BMS had unitedly demanded and have been pursuing for the last 5 years, CITU said.
"They (BMS) vociferously argued for the same on the latest occasion in the meeting of the Minimum Wage Advisory Board held on August 29, 2016," it added.
"How could a trade union worth its name accept such a mockery on their genuine demand formulated on the basis of a formula accepted by the central govt also? BMS may consider this mockery of offer a "historic achievement" owing to their compulsion, but others cannot," CITU said.
(With inputs from PTI)