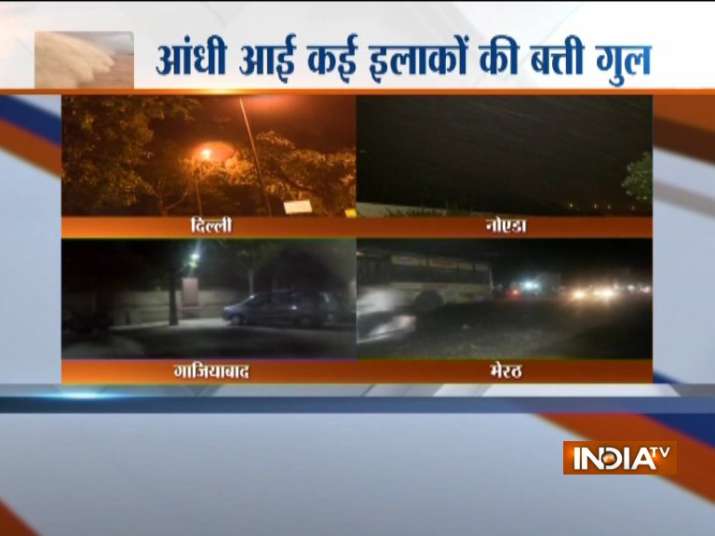 Thunderstorm accompanied with rain and gusty winds have hit Delhi NCR region and the nearby areas of Bhiwani, Rohtak, Bagpat, Panipat, Meerut and Bijnor. Power outages have been reported from several areas. 
Haryana's Hisar, Kaithal, Jind, Kurukshetra and Karnal are also likely to witness thunderstorm along with rain, the weather department said.  
A dust storm, with a wind speed of 70 kilometres per hour, had hit the national capital last night followed by a squall, bringing down the temperature after a hot day.
The day began with Himachal Pradesh's Shimla witnessing severe hailstorm and rainfall.
IMD issued an alert on Monday saying "under the influence of a western disturbance, a cyclonic circulation over Haryana and a west-east tough from northwest Rajasthan to central Madhya Pradesh in lower levels" will bring light to moderate rainfall in north India.
Last week, at least 124 people died and more than 300 were injured when dust storms hit five states, including Uttar Pradesh and Rajasthan.
As it happened:
10:44 pm: IMD has warned that thunderstorm and squall with wind speed of up to 70 kmph are "very likely" in Uttarakhand and parts of eastern India tomorrow.
10:15 pm: 
Disaster Preparation (During) #Thunderstorms/#Duststorms/#Squall Do's and Don'ts pic.twitter.com/7BBKLAdiuR

— NDMA India (@ndmaindia) May 8, 2018
10:13 pm: All schools and colleges in UP's Kasganj to remain closed on Wednesday in view of the IMD warning.
09:53 pm: Massive squall hits Faridabad; complete blackout in city. 
09:43 pm: The MeT department has forecast heavy rains, thunderstorm and squall in 13 north and east Indian states.
09:38 pm: Dusty winds have hit Gurugram, hailstorm has hit some areas of Haryana. 
09:36 pm: Three persons, including tourists from Delhi and Mumbai, died in Uttarakhand on Tuesday amid sudden snowfall.
09:33 pm: 
Strong winds hit the National Capital Region. Visuals from Rajpath area. #Delhi pic.twitter.com/d9YiLIt7Pk

— ANI (@ANI) May 8, 2018
09:25 pm: High-speed gusty winds hit Noida, power outage reported in several areas.
09:22 pm: Gusty winds hit UP's Vasundhara and Ghaziabad areas.
09:20 pm: Squall hits Meerut, power outage in several areas reported. 
09:00 pm: According to IMD, Uttarakhand will continue to experience thunderstorms in the next 24 hours.