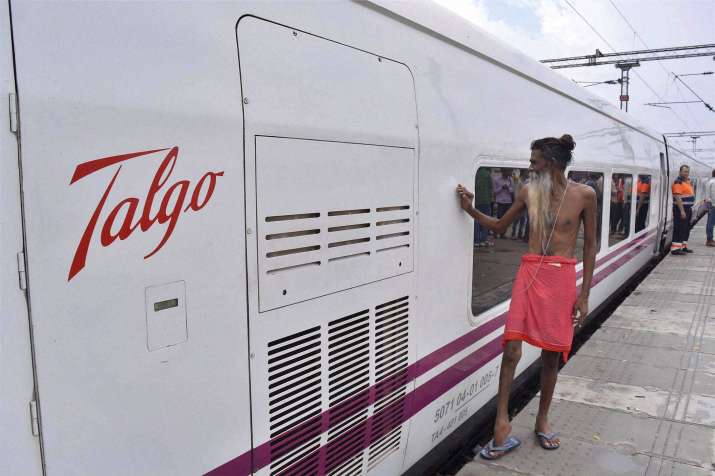 After its successful run from Mathura to Palwal with full capacity, the Talgo Train is now set for the final trial between Delhi and Mumbai and is likley to finish its journey in less than 13 hours. The fastest journey on the route is on board the Rajdhani Express which takes around three hours more to traverse the distance.
On July 21, the Talgo train, powered with 4,500-HP diesel engine, clocked 180 kmph surpassing the likes of premium trains like Rajdhani, Gatimaan and Shatabdi. During a trial run on July 14, the train had clocked a record speed of 180 kmph with empty coaches. Currently, the Gatiman Express between Delhi and Agra is the fastest Indian train at 160 kmph.
The third stage trials will begin from August 1, on the Delhi to Mumbai Rajdhani route. The final trials, which will take place at speeds of 130 kmph and 150 kmph, are expected to be completed by August 6.
"The train will depart from New Delhi at 7.55 pm on August 1, and will maintain a speed of 130 kmph during the entire journey," the Times of India quoted its sources as saying.
"The Talgo officials have said that at this speed, the distance of 1,384 kms will be covered in 14 hours and 5 minutes. Currently, the Rajdhani Express touches 130 kmph and takes nearly 16 hours to cover the same distance," a WR source said.
The test drive only gets better during the return journey, scheduled for August 3. The train will depart Mumbai at 3 am, and the goal is to reach Delhi by evening.
The nine-coach Talgo train consists of two executive class compartments, four chair cars, a cafeteria, a power car, and a tail-end coach for equipment.