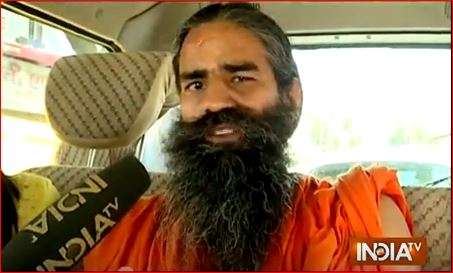 Launching a scathing attack on Pakistan for aiding and abetting terrorist activities in Kashmir, yoga guru Ramdev has said that India should give befitting reply to the nefarious designs of Islamabad.
In an exclusive interview to India TV, Swami Ramdev opened up on a host of issues ranging from India's response to Pakistan, impact of GST rollout on Indian economy to boycott of Chinese goods.
Swami Ramdev said that Pakistan is a non-issue for India as it is being instigated by countries like China and the United States. He further said that Pakistan-occupied Kashmir should be merged with India.
Responding to questions on GST, Swami Ramdev said that the government's willingness to make changes in GST regime is a good sign. He, however, made it clear that the GST rollout has not affected Patanjali and it continues to provide jobs to people in areas like manufacturing and distribution. 
Blasting China for following a policy of coercion towards its neighbours, Swami Ramdev said that Chinese goods should be boycotted as it will have adverse impact on Chinese economy. 
However, Swami Ramdev advised Indian government to learn from China and reduce tax rates in the interest of the economy.
Watch full interview here: