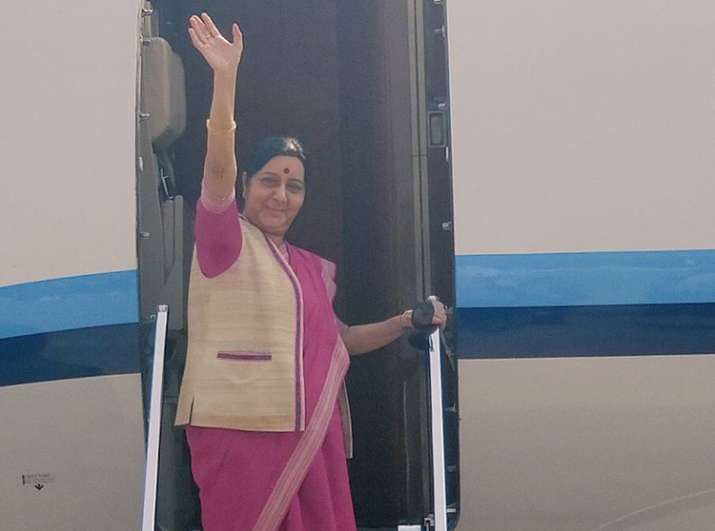 External Affairs Minister Sushma Swaraj today left for a two-day visit to Bangladesh during which she will discuss key issues affecting the two countries. She will co-chair the Indo-Bangla joint consultative commission meeting to review the bilateral relations and discuss ways to further strengthen the ties. 
The issue of Rohingya refugees is also expected to come up during the visit of the minister. The UN says 536,000 mainly Rohingya refugees have arrived in Bangladesh from Myanmar's strife-torn Rakhine state since August 25, the majority of them children. India has been providing relief material to Bangladesh to deal with the heavy influx of refugees.
"External Affairs Minister Sushma Swaraj departs for Bangladesh to review the excellent bilateral relations and further strengthen ties," ministry spokesman Raveesh Kumar tweeted.
Swaraj is visiting Dhaka at the invitation of her Bangladesh counterpart Abul Hassan Mahmood Ali and is expected to meet the leadership there as also interact with the representatives of leading Bangladeshi think tanks, chambers of commerce and industry and cultural organisations, a statement from the MEA said. 
"During the visit, Swaraj and the Bangladesh Foreign Minister will co-chair the 4th meeting of the India-Bangladesh Joint Consultative Commission... The visit is expected to afford an opportunity for review of the excellent bilateral relations between India and Bangladesh and further strengthening of these ties," it said. 
This is Swaraj's second visit to Bangladesh and comes after recent trip of Finance Minister Arun Jaitley during which India operationalised a USD 4.5 billion line of credit to Bangladesh to enable implementation of development projects in key areas, including power, railways, roads and shipping. 
The announcement of the line of credit was made during the visit of Bangladesh Prime Minister Sheikh Hasina to India in April. 
The development is also seen as India's attempt to counter increasing Chinese influence in Bangladesh, where Beijing is trying to make inroads in infrastructure ventures.