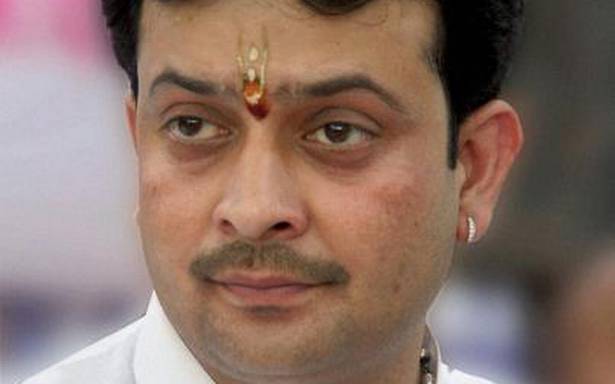 In a shocking incident, spiritual leader Bhaiyyuji Maharaj shot himself dead in Indore on Tuesday.
Bhaiyyuji Maharaj was admitted to Bombay Hospital in Indore with gun injuries where doctors declared him brought dead.
The Chief Medical Officer of the hospital said that Bhaiyyuji Maharaj, who was accorded the status of a state minister by the Shivraj Singh Chouhan government recently, was brought dead. He shot himself in the head.
A suicide note recovered from his house stated that Bhaiyyuji Maharaj was under mental stress. "Somebody should be there to handle duties of family. I am leaving too much stressed out. Fed up," the suicide note written in English stated.
Political leaders cutting across the party lines expressed shock over the death of spiritual guru Bhaiyyu Maharaj.
Here's what political leaders said on  Bhaiyyuji Maharaj's suicide:
Nitin Gadkari: Learnt about the death of spiritual guru Shri Bhaiyyuji Maharaj. I had personal relationship with him. His untimely death is saddening. My humble tributes. 
Devendra Fadnavis: Bhaiyyu Maharaj's work towards land reforms, water conservation, farmers (welfare) and education of children will always be remembered. Tributes to him! Am part of mourning of his big family and followers. 
Radhakrishna Vikhe Patil: The untimely death of Bhaiyyuji Maharaj, who was ever smiling, enthusiastic and one giving energy, is saddening. #RIP #BhaiyyujiMaharaj. 
Prithviraj Chavan: A lot of political people used to meet him. He was a spiritual person, who motivated people to do good. He visited Maharashtra frequently and met a lot of people and was also involved in social work here. 
Nawab Malik: May his soul rest in peace 
The 50-year-old spiritual leader allegedly shot himself at his home in Indore, police said. 
Bhaiyyu Maharaj, whose original name was Uday Singh Deshmukh, was one of the five 'saints' to whom the Shivraj Singh government in Madhya Pradesh had granted Minister of State (MoS) rank in April. 
However, he had refused to accept it, saying "a post holds no importance for a saint".