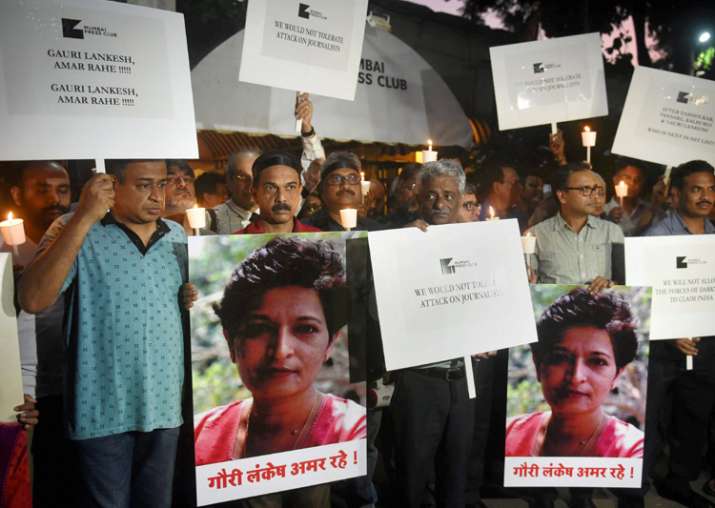 A day after she was gunned down by unidentified assailants, the body of senior journalist Gauri Lankesh was laid to rest with State honours.
Chief Minister Siddaramaiah, Home Minister Ramalinga Reddy, JD(S) MLA BZ Zameer Ahmed Khan, multi-lingual actor Prakash Raj, playwrights, theatre personalities, journalists and social activists were in attendance. Besides, a large number of people thronged the TR Mill crematorium to pay their last respect to Gauri. 
As the body was laid to rest in the Lingayat burial ground in the crematorium, slogans like 'Gauri Lankesh Amar Rahe' and 'Gauri Lankesh Zindabad' filled the air. 
The scribe's family said that her eyes were donated to be used for the needy.
Rains could not dampen people's respect for 55-year-old Gauri, known for her Left-leaning and anti-right wing stand. She was shot dead by motorcycle-borne assailants from close range at her residence here on Tuesday evening. The killing has drawn widespread condemnation.
Earlier in the day, Siddaramaiah constituted a Special Investigation Team (SIT) to probe the killing. "A SIT has been formed, headed by an Inspector-General-level officer, to investigate the journalist killing," the CM told the media here after meeting top police officers at the state assembly Vidhan Soudha.
He said that if the family members insist on a CBI investigation, the state could think about it. "I have an open mind."
CCTV footage from around the residence has been recovered by police. The Union Home Ministry has sought a detailed report from the Karnataka government on the killing of the senior Kannada journalist.
Media fraternity and activists gathered across the country in cities including New Delhi, Mumbai, Hyderabad among others condemning her murder.
Deputy Commissioner of Police, West, MN Anucheth said that three special teams had been set up to crack the case. "They are on the lookout for the suspected assailants. We are tracking the movement of people and vehicles at check posts and inter-state borders. We have alerted our counterparts in the neighbouring states of Andhra Pradesh, Maharashtra and Tamil Nadu as well."
Union Minister Nitin Gadkari said that the BJP, or any organisation linked to the party were not involved in the killing. He also defend Prime Minister Narendra Modi against criticism on his silence over the killing. He said the Prime Minister could not react on everything.
"There should be a proper probe of the murder. The guilty should be brought to book. Government of India, BJP or any of our organisations are not linked to this murder," Gadkari said.
"Prime Minister had not reacted and for that they are holding him responsible. The Prime Minister cannot react on everything," Gadkari said pointing out that Modi was out of the country.