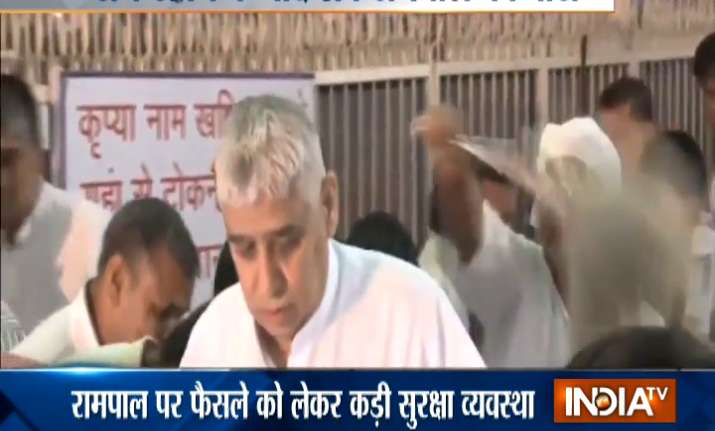 A Hisar court today acquitted Sant Rampal in two criminal cases. He, however, will stay in jail as there are other cases pending against him. Two cases were registered against Sant Rampal and others in connection with the violence that took place on November 18, 2014 in Satlok Ashram.
"He (self styled godman Rampal) has been acquitted in the two cases (426 and 427). Its a victory of truth. He will remain in jail as there are other cases still pending against him," AP Singh, lawyer, said.
The court of Judicial Magistrate Mahesk Kumar held Rampal not guilty of the wrongful confinement, unlawful assembly and disobedience to an order promulgated by a public servant. The verdict was announced at a makeshift court set up inside the Central Jail in Hisar, about 250 km from here.
When police reached Satlok Ashram to arrest Sant Rampal on November 18, 2014, his supporters surrounded the Ashram and indulged in acts of violence. Police arrested Rampal amid the high drama enacted by him and his supporters. Around 15,000 people were evicted from Satlok Ashram after the arrest of Sant Rampal. They were all taken hostages by Rampal and his supporters in order to dissuade police from entering the ashram and arresting the self-styled godman.
Two separate cases were registered against Rampal and his supporters for creating obstacles in the way of discharging duty by government officials. In one case, Rampal and five others are accused while in the second case, Rampal and six others are accused. 
Sant Rampal is facing charges of  treason and murder as well. The police had requested the court to postpone the verdict in Rampal case in view of the upcoming verdict in Ram Rahim case. The court agreed to the request and postponed the verdict for today.