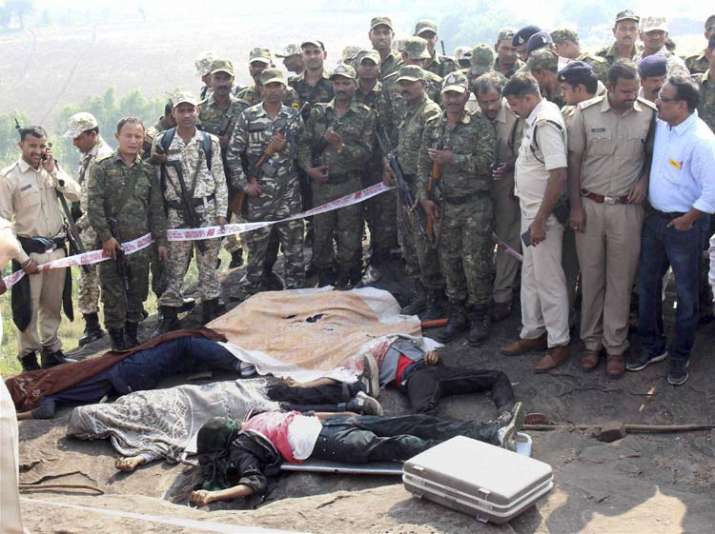 The controversy over the killing of eight SIMI activists after they escaped the Bhopal Central Jail grew bigger on Thursday with the new audio tapes of conversation purportedly between cops hinting at the encounter being a pre-planned murder. 
The audio clips accessed from the Madhya Pradesh police by a leading news channel show that the cops had already decided to kill the eight SIMI escapees instead of arresting them. 
 

In the audio tapes, a man can be heard instructing the cops engaged in the operation, saying, "Sabko nipta do... Sahab aane wale hain (Finish everyone... Sahab is about to reach)".

 
The instruction is followed by another order which says, "Bilkul peechhe nahi hatna hai. Gher ke pura kar do kaam tamaam (Don't hesitate at all. Surround them and finish them off)".
The audio tapes, which come in the wake of the video clips that did the rounds within hours of the operation on October 31, raise questions about the police version of the sequence of events. 
Earlier, police had claimed that the SIMI activists, who escaped from the "high-security" Bhopal Central Jail after killing a prison guard, had firearms. 
 

However, the audio tapes that surfaced on Thursday, do not indicate any exchange of operation, and instead hint at a pre-planned operation that concluded in a few minutes.

 

 "Sigma Seven One: chaar-paanch mar gaye hain. Unko goli lag gayi hai (Sigma Seven One, four-five are dead. They have been shot)," says the tape. 

 
 

On this, another officer replies, "Aaye hai sir, 5 ko goli lag gayi jai, chalo shabash, koi dikkat nahin hai, hum log pahunch rahe hain (five have taken bullets, congrats. No problem, we are reaching)."

 
Madhya Pradesh's anti-terror squad chief Sanjeef Shami has also claimed that the eight SIMI activists shot dead were unarmed. 
 

Around the ninth minute into the clip, the cops can be heard announcing: "Aathon maare gaye. Khel Khatam. (All eight are dead. Game over)."

 
The 'encounter' operation by the MP Police is facing disagreement from all opposition parties as they are demanding independent probe in the killing of the eight men.