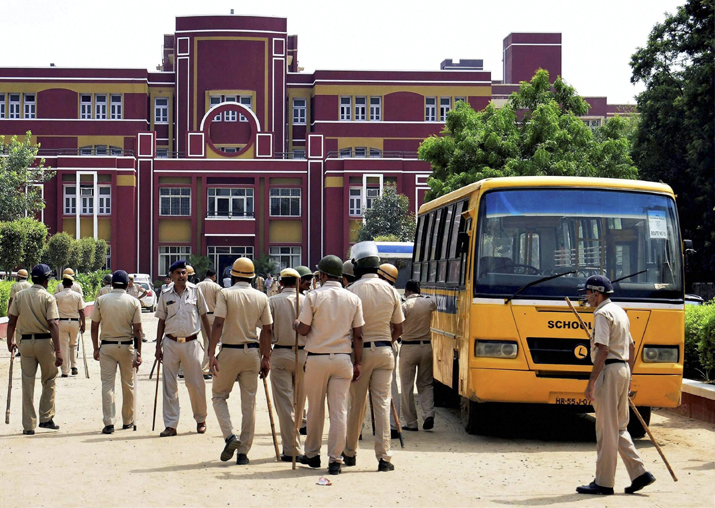 The CBI today took over the probe into the killing of a seven-year-old student of Ryan International School in Gurgaon, hours after his father threatened to move the Supreme Court if the agency did not start the investigation by tomorrow. CBI spokesperson Abhishek Dayal said the agency took over the probe after a notification from the central government was received today. 
According to the procedure, it has re-registered the FIR of the Gurgaon Police which had been probing the matter. "The CBI took over the investigation into the said case which was registered ... at Bhondsi police station in Gurgaon under sections 302 (murder) of the IPC, 25 of the Arms Act, 12 of the Protection of Children from Sexual Offences (POCSO) Act and 75 of the Juvenile Justice Act read with section 34 of IPC," he said. 
A CBI team also visited the office of the Gurgaon Police Commissioner late in the evening, sources said. 
The Gurgaon Police had arrested Ashok Kumar, one of the school's bus conductors, in connection with the case. On September 16, it had said the charge sheet had been prepared and Kumar was the only accused, but the SIT would not file it in court. 
The report will be handed over to the CBI once it takes over the investigation within a couple of weeks, it had said. 
Pradhuman Thakur, a Class 2 student, was found dead with his throat slit in a toilet of the school on September 8. Kumar was arrested the same day for allegedly killing the child. 
Earlier in the day, Pradhuman's father Barun Thakur had told a press conference here that he had appealed to the top leaders of the country to expedite the Central Bureau of Investigation (CBI) inquiry into the "sensitive matter". 
Thakur's lawyer alleged that the CBI inquiry had not yet started despite the Haryana government recommending it. "If the formal inquiry by the CBI is not started by tomorrow, then Barun Thakur will move the Supreme Court on Monday," he added.