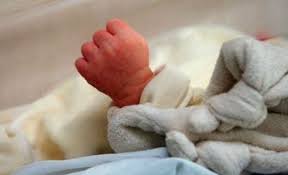 Vijayawada: In an incident that highlights the shoddy state of affairs in government-run hospitals, a five-day-old baby went missing from the maternity ward of the Old GG Hospital in Vijayawada on Thursday.
The incident relates to I Kalyani (26), a resident of Kothapet locality in Vijayawada, who delivered a baby boy at the the hospital five days ago and went home the next day after being discharged from the hospital. 
However, on July 13, after finding the baby ill, Kalyani and her husband Subramanyam approached doctors at the same hospital who diagnosed the baby as suffering from jaundice. The child was then kept in the incubator for observation, a Times of India report said, quoting the child's father.
On Thursday morning, Kalyani found the boy missing after she returned from the rest-room. Alarmed, Kalyani informed her husband who rushed to the hospital and a search was launched.
Soon after hearing about the incident, the  hospital staff closed all the gates and searched for the missing boy but to no avail.
Ironically, the maternity ward of the hospital has two cameras installed at its entry and could have proven crucial in finding the culprit, only if they had been functional. Both CCTV cameras installed near the maternity ward were found to be malfunctioning, virtually leaving no evidence about the culprit.
After receiving a complaint, the police went to the hopital and started investigations.
An official said that patients in the same ward informed of an unidentified woman entering the ICU when Kalyani went to the rest-room. A total of 60 suspects were identified in the case six of them were taken into custody, police said, adding that the suspects are being questioned and attempts were on to ascertain if there was any other angle to the case.
Meanwhile, family members of the victim family staged protests alleging the role of hospital staff, particularly the security guards, and also tried to ransack the hospital.
Hospital authorities, on the other hand, expressed helplessness, saying it could be the handiwork of a professional criminal involved in child-trafficking and kidnapping new-born babies from hospitals. 
Chief Minister N. Chandrababu Naidu has now ordered an inquiry into the entire episode and directed officials concerned to ensure that the baby is traced as soon as possible.